Here's what Lois Lowry said about a film based on a book in the introduction of The Giver:
"The important thing is that a film doesn't obliterate a book. The movie is here now. But the book hasn't gone way. It has simply grown up, grown larger, and begun to glisten in a new way."
---
The Book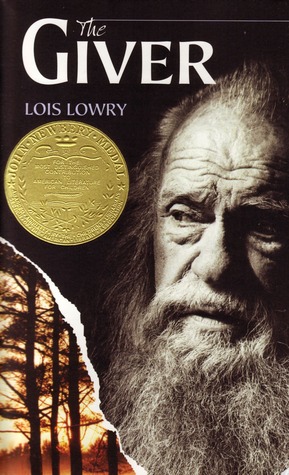 The Giver is a 1993 American young adult dystopian novel by Lois Lowry. It is set in a society which at first appears to be utopian but is revealed to be dystopian as the story progresses. The novel follows a 12-year-old boy named Jonas. The society has taken away pain and strife by converting to "Sameness", a plan that has also eradicated emotional depth from their lives.
Source: Wikipedia
Image Source: Goodreads

I bought this book instead of buying The Lost Symbol and completing the Robert Langdon series (this was long before Origin came out). Even my friend that worked at the bookstore told me to get the other book but I was adamant that I wanted this one and would you look at that…I finished this one and have yet to start Angels & Demons. This book went ridiculously fast and I found myself never wanting to put it down. The concept was amazing and it really makes you realise that ignorance is in fact bliss. Imagine being the same as everyone else, things are chosen for you and there is no such thing as freedom, because why would you need it?
The Movie
The Giver is a 2014 American social science fiction film directed by Phillip Noyce and starring Jeff Bridges, Brenton Thwaites, Odeya Rush, Meryl Streep, Alexander Skarsgård, Katie Holmes and Cameron Monaghan.[3] The film is based on the 1993 novel The Giver by Lois Lowry.

Source: Wikipedia
Image Source: Google Images

It took me a while to get to this movie mainly because I was never in the mood to watch it. It requires concentration and my mind wasn't up for it. I do think that there was some extra information added since the book ends on a 'what happens next?' situation and I haven't read the entire Giver Quartet but I do like the way they went about with the execution. The fact that they actually started the movie out 'bland' was amazing and I loved that.
The Decision
This is a tough one for me mainly because I genuinely liked both the book and movie very much. I liked the vibe of the movie and I felt that it's worth another watch so I'm going with the movie for this one. I don't know if I'll read The Giver again but I'm definitely continuing with the quartet.
Goodreads | Twitter | Instagram | Wattpad