The Book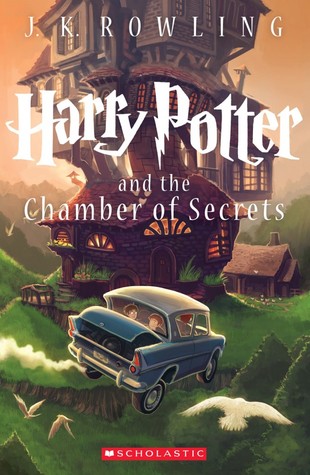 Harry Potter and the Chamber of Secrets is the second novel in the Harry Potter series, written by J. K. Rowling. The plot follows Harry's second year at Hogwarts School of Witchcraft and Wizardry, during which a series of messages on the walls of the school's corridors warn that the "Chamber of Secrets" has been opened and that the "heir of Slytherin" would kill all pupils who do not come from all-magical families
Source: Wikipedia
Image Source: Goodreads
As tiny as this book is, the movie has nothing on it. I too want a flying car because that sounds totally awesome. What I don't want, is to get beaten up by the Whomping Willow. Again, this book sets off all the switches in your head and opens up that door to imagination. This wasn't my favourite in the series but there was a lot of suspense and I think as the years go on, I felt more sorry for Harry. Poor kid just couldn't get a break.
The Movie
Harry Potter and the Chamber of Secrets is a 2002 British-American fantasy film directed by Chris Columbus and distributed by Warner Bros. Pictures.[2] It is based on the novel of the same name by J. K. Rowling. The film, which is the second instalment in the Harry Potter film series, was written by Steve Kloves and produced by David Heyman.
…
Source: Wikipedia
Image Source: Google Images
When I first watched this movie, I was scared to death. I was alone in mine and my sister's bedroom and all the lights were off so that added to the effect. Of course now, it being years later and me having watched the movie many more times, I'm not scared anymore but jeez, that snake though. I always did like that they made the movie version of Dobby so adorable.
The Decision
Book, book, book. Loved the movie and I will gladly watch it again. I'm actually due for a HP marathon but the book wins for me.
Goodreads | Twitter | Instagram | Wattpad