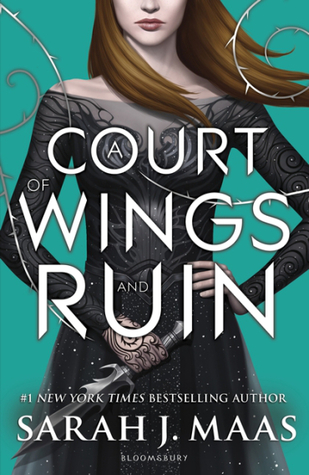 Goodreads
Looming war threatens all Feyre holds dear in the third volume of the #1 New York Times bestselling A Court of Thorns and Roses series.
Feyre has returned to the Spring Court, determined to gather information on Tamlin's maneuverings and the invading king threatening to bring Prythian to its knees. But to do so she must play a deadly game of deceit-and one slip may spell doom not only for Feyre, but for her world as well.
As war bears down upon them all, Feyre must decide who to trust amongst the dazzling and lethal High Lords-and hunt for allies in unexpected places.
In this thrilling third book in the #1 New York Times bestselling series from Sarah J. Maas, the earth will be painted red as mighty armies grapple for power over the one thing that could destroy them all.
---
I almost started this book over because I wasn't feeling that initial excitement anymore but I decided to push on and push through. It has seriously taken me over a year to finish this book. I've been so ridiculously busy since I got back to SA that I decided to pick the book up again during exam time. Such a smart idea.
This book started off great. We picked up where we left off in ACOMAF and the excitement kept building. I was eager to see where the road was going to take us and how much more heartbreak I could take. SJM still remains a queen and I think I can forgive her for breaking my heart yet again because her comebacks are always so perfectly executed.
One thing I must say is that popular opinion got to me. I bought this book the day it was released and started it immediately. I should have waited because I was only a few pages in before I decided to 'put it on hold'. There were moments here and there that I felt I could do with some more excitement (and this was during the battles- I admit a skim read some paragraphs) but everything else was perfection. There was slightly too much focus on Feyre and Rhysand's relationship which I thought was a bit much. We covered that in ACOMAF so I wasn't expecting much more of it. It was a big book though (699 pages is quite a good amount) so there was enough time to touch on the familial bonds that were made, the other High Lords as well as the battle we were all waiting for.
I was really impressed at all the character development that took place; some later than others but it happened nonetheless. I'm really liking Nesta though. I didn't pay much attention to her before because my OTP was being awesome at everything, but she was so amazing. I love her lack of…emotion. The fact that her expression is stone cold most of the time and that she always acts as protector. She had the most development in my opinion. She's possibly my favourite character in this series at this point. Please see my post about the characters I dislike the most here to get a feel of how I feel about Tamlin.
I had many ups and downs with reading this book. There was a it of a slump in the middle before leading to the build-up before the climax. This is the end of the trilogy for me as I do not see myself reading A Court of Frost of Starlight (I'm still considering it). The lower rating for this book is that while I liked this book, I did not love it and I felt that even giving it 3.5 instead of a solid 3 stars was being generous.
Reviews of other books in this trilogy:
Read: 16 October 2018
Rating: ★★★.5
Publication Date: 2 May 2017
Publisher: Bloomsbury Childrens Books
Link to Author's Goodreads Page: Sarah J. Maas