The Book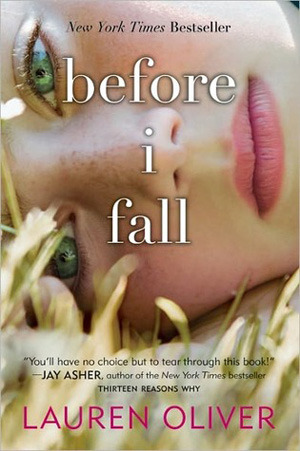 Before I Fall is a 2010 young adult novel written by Lauren Oliver.[1] It is written in first-person narrative of a teenager who is forced to relive the day of her death every day for a week. In an attempt to understand why this is happening to her, as well as trying to change her fate, she takes new actions each day, some of which are out of character and surprise her family and friends.
Source: Wikipedia
Image Source: Goodreads
I had this book for a while but I decided to read it because of the movie. I was really excited to read it because Lauren Oliver is easily one of my favourite authors. I enjoy her writing style quite a bit and it didn't disappoint in this book. The idea of people reliving the last day of their lives is not new but the fact that Sam's number was so exact- seven days- had me intrigued. I did like the book, even though I had problems here and there with a few things. I admit I got confused by the way people were acting but that wasn't too big of a thing for me.
The Movie
Before I Fall is a 2017 American teen drama film directed by Ry Russo-Young and written by Maria Maggenti, based on the 2010 novel of same name by Lauren Oliver.
…
…
Source: Wikipedia
Image Source: Google Images
I was most eager to see the differences in the years this took place. The book was written in 2010, back when acceptance wasn't 'the in thing', so I wanted to see how the story played out when it was told in 2017.
There were minor changes made in the movie and that's understandable because the movie would be grasped better if it was more 'modern'. All those changes were easy to ignore though once the focus was on the bigger plot. While watching the movie, I forgot that it was based on the book. Seeing everything playing out before my eyes…I nearly cried. Just how Samantha knew that last day, that's when my heart felt like it was being pulled out of my chest. This movie was- for lack of a better word- amazing.
The Decision
I love Lauren Oliver, she's one of my favourite authors and I loved reading this book but I'm going with the movie for this one. I feel like I connected to the movie more.
Goodreads | Twitter | Instagram | Wattpad
**Note: There's always help out there. Suicide doesn't have to be the end for you. As the saying goes: it's a permanent solution to a temporary problem. There are people you could call and maybe there's someone relying on you, whether you're aware of it or not.
Whoever's reading this has probably heard the song already but I suggest you listen to 1-800-273-8255 by Logic feat. Alessia Cara & Khalid. Watch the music video, because that's just as powerful as the song. The number is the suicide prevention hotline in the US but I urge you to find out the number of the country you are in and talk to someone.
South Africa's suicide prevention hotline is 0800 567 567