There have been countless books that have been adapted and made into movies, TV shows and what have you. I think it's safe to say that a horrible adaptation is a bookworm's worst nightmare come to life.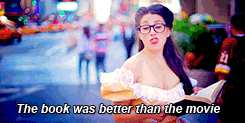 I started a Movie/TV Show vs. Book segment on my blog last year and while I enjoy it very much, I don't always go into detail about how I feel about the situation as a whole. Don't get me wrong, there's absolutely nothing wrong with this because who doesn't want to see a book they enjoyed 'come to life' so to say?
The first movie I watched that was based off a book, that I can remember, was A Walk to Remember. I didn't know there was a movie for it…hell, I didn't even know that Nicholas Sparks was such a well known author. It wasn't until I got more involved in the book world and the blogosphere that I really considered the few (or many) differences adaptations can bring forth.
I try not to be too harsh when watching a movie that is based off a book because I have to put in consideration the filmmaker's thoughts and ideas as well. Of course, as readers we have our own expectations, what we pictured as we were reading and we get a bit 'annoyed' when there are unforeseen changes. Nothing wrong with change but if the plot itself is going to be changed why even decide to base the film/show off that book in the first place
My point is that I don't have any issues with book to screen adaptations… My thing is the 'how it's executed' that gets me. There are some books that I think would be great if they were made into movies or even better, TV shows. I honestly wish that there was a book for the movie Remember Me. I cry every time I watch it and I think the emotions would be just as raw and heart wrenching if it were in the form of a book, if not more.
Let's have a few adaptations and my brief thoughts on them.
The Twilight Saga

– love/hate relationship with this series and I'm constantly on the fence about it

The Shadowhunter Chronicles

– what even was that movie? LOVE the changes made in the TV show…gives it a new and original feel

Percy Jackson and the Olympians

– great on it's own but compared to the books, just…no

The Harry Potter series

– I mean, the movies could've been better but I do frequent marathons so I don't actually dislike it at all
There's always the fear that a book that you loved so much was made into a movie what you don't care about. This was why I was so happy when I found out that Cassie Clare was asked her opinion about characters and the world and whatnot during the production of Shadowhunters.
I think it's very important that they take the fans and readers into consideration when adapting a book because they are the ones that'll be watching and the internet's not always a nice place. These days people get so easily offended that it's not hard to be ridiculed and made a joke out of.
I'm perfectly capable of separating a book from it's screen adaptation. I don't get angry while watching City of Bones anymore because my sister and I think of it as a comedy. All in all, I'm glad that we readers are even granted an opportunity to see these books made 'visual'. I'd be out of a segment if they were to stop lol.
See my Movie/TV Show vs. Book posts here.
Thanks for stopping by,
Caron
Goodreads | Twitter | Instagram | Wattpad
Source: gifs taken from giphy.com