Goodreads synopsis included.
1 August
Ms. Marvel Vol.7 by G. Willow Wilson
Civil War II is behind her, and a brand new chapter for Kamala Khan is about to begin! But it's lonely out there for a super hero when her loved ones no longer have her back. It's time for Kamala to find out exactly who she is when she is on her own. Plus: it's election time! Kamala gets out the vote!
COLLECTING: MS. MARVEL 13-18
---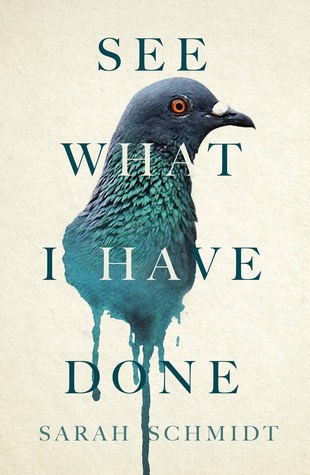 See What I Have Done by Sarah Schmidt
In this riveting debut novel, See What I Have Done, Sarah Schmidt recasts one of the most fascinating murder cases of all time into an intimate story of a volatile household and a family devoid of love.
On the morning of August 4, 1892, Lizzie Borden calls out to her maid: Someone's killed Father. The brutal ax-murder of Andrew and Abby Borden in their home in Fall River, Massachusetts, leaves little evidence and many unanswered questions. While neighbors struggle to understand why anyone would want to harm the respected Bordens, those close to the family have a different tale to tell—of a father with an explosive temper; a spiteful stepmother; and two spinster sisters, with a bond even stronger than blood, desperate for their independence.
As the police search for clues, Emma comforts an increasingly distraught Lizzie whose memories of that morning flash in scattered fragments. Had she been in the barn or the pear arbor to escape the stifling heat of the house? When did she last speak to her stepmother? Were they really gone and would everything be better now? Shifting among the perspectives of the unreliable Lizzie, her older sister Emma, the housemaid Bridget, and the enigmatic stranger Benjamin, the events of that fateful day are slowly revealed through a high-wire feat of storytelling.
***
8 August
The Last Tudor (The Plantagenet and Tudor Novels, #14) by Philippa Gregory
The latest novel from #1 New York Times bestselling author Philippa Gregory features one of the most famous girls in history, Lady Jane Grey, and her two sisters, each of whom dared to defy her queen.
Jane Grey was queen of England for nine days, dying on the scaffold for her faith. But few people know about her two sisters, cousins to Elizabeth I who also faced imprisonment and death sentences for treason.
Katherine Grey was the beauty of the family who earned the lifelong hatred of her cousin Elizabeth I when she married for love. Mary Grey was an extraordinary little person known as a dwarf in Tudor times, who defied convention to marry the tallest man at court in her own secret love match.
The fascinating story of three idiosyncratic Tudor girls and their challenges to the most powerful Tudor woman of all is the subject of the next novel from the author who defines what it means to be a writer of historical fiction (RT Book Reviews).
---
Paper Girls Vol.3 by Brian K. Vaughn
The multiple Eisner and Harvey Award-winning series from BRIAN K. VAUGHAN and CLIFF CHIANG continues, as newspaper deliverers Erin, Mac and Tiffany finally reunite with their long-lost friend KJ in an unexpected new era, where the girls must uncover the secret origins of time travel… or risk never returning home to 1988.
Collects issues 11 through 15!
***
15 August
Wicked Like a Wildfire (Hibiscus Daughter, #1) by Lana Popović
"Lush. Delicious. Bewildering. And darkly magical. Popovic has created a world that you tumble into from the very first words and wish you could stay in forever." —Evelyn Skye, author of The Crown's Game
"Wicked Like a Wildfire was like devouring a succulent fairy fruit—it will rob your time, settle into your dreams, and leave you starving for more." —Roshani Chokshi, New York Times bestselling author of The Star-Touched Queen
Fans of Holly Black and Leigh Bardugo will be bewitched by Lana Popovic's debut YA fantasy novel about a bargain that binds the fates—and hearts—of twin sisters to a force larger than life.
All the women in Iris and Malina's family have the unique magical ability or "gleam" to manipulate beauty. Iris sees flowers as fractals and turns her kaleidoscope visions into glasswork, while Malina interprets moods as music. But their mother has strict rules to keep their gifts a secret, even in their secluded sea-side town. Iris and Malina are not allowed to share their magic with anyone, and above all, they are forbidden from falling in love.
But when their mother is mysteriously attacked, the sisters will have to unearth the truth behind the quiet lives their mother has built for them. They will discover a wicked curse that haunts their family line—but will they find that the very magic that bonds them together is destined to tear them apart forever?
Wicked Like a Wildfire is the first in a two-book series. Readers will be rapt with anticipation for the sequel.
***
24 August
The Store by James Patterson
The Store knows you better than you know yourself.
Imagine a near future of unparalleled convenience. A powerful retailer, The Store, can deliver anything to your door via drone, even anticipating needs and desires you didn't know you had. Most people are fine with that, but not Jacob and Megan Brandeis. New York writers whose livelihood is on the brink of extinction, Jacob and Megan have made a drastic decision–they're going undercover to dig up The Store's secrets in a book that could change the entire American way of life–or put an end to Jacob's. When they arrive at The Store's distribution center in the Midwest, it appears to be an idyllic workplace. But after a series of unsettling discoveries, Jacob and Megan's worst fears about The Store seem like just the beginning. With nothing escaping The Store's watchful eye, and Megan's commitment to the cause in doubt, Jacob quickly becomes a major inconvenience that The Store will do anything to silence. Harboring a secret that could get him killed, Jacob has to find a way to publish his expose before the truth dies with him.
***
29 August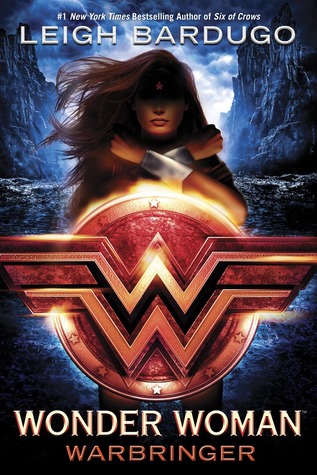 Wonder Woman: Warbringer (DC Icons, #1) by Leigh Bardugo
The highly anticipated coming-of-age story for the world's greatest super hero: WONDER WOMAN by the # 1 New York Times bestselling author LEIGH BARDUGO.
She will become one of the world's greatest heroes: WONDER WOMAN. But first she is Diana, Princess of the Amazons. And her fight is just beginning. . . .
Diana longs to prove herself to her legendary warrior sisters. But when the opportunity finally comes, she throws away her chance at glory and breaks Amazon law—risking exile—to save a mere mortal. Even worse, Alia Keralis is no ordinary girl and with this single brave act, Diana may have doomed the world.
Alia just wanted to escape her overprotective brother with a semester at sea. She doesn't know she is being hunted. When a bomb detonates aboard her ship, Alia is rescued by a mysterious girl of extraordinary strength and forced to confront a horrible truth: Alia is a Warbringer—a direct descendant of the infamous Helen of Troy, fated to bring about an age of bloodshed and misery.
Together, Diana and Alia will face an army of enemies—mortal and divine—determined to either destroy or possess the Warbringer. If they have any hope of saving both their worlds, they will have to stand side by side against the tide of war.
---
Thirteen Rising (Zodiac, #4) by Romina Russell
Romina Russell's epic sci-fi fantasy series reaches its breathtaking conclusion with this fourth and final novel.
The master has been unmasked. Rho's world has been turned upside down. With her loved ones in peril and all the stars set against her, can the young Guardian from House Cancer muster the strength to keep fighting? Or has she finally found her match in a master whose ambition to rule knows no limits?
---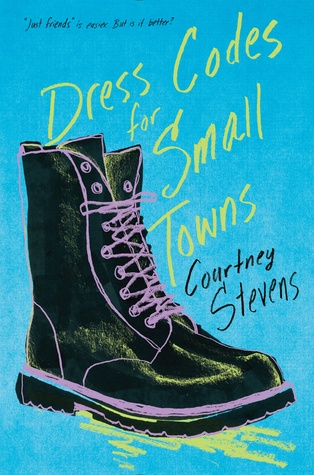 Dress Codes for Small Towns by Courtney C. Stevens
The year I was seventeen, I had five best friends…and I was in love with all of them for different reasons.
Billie McCaffrey is always starting things. Like couches constructed of newspapers and two-by-fours. Like costumes made of aluminum cans and Starburst wrappers. Like trouble.
This year, however, trouble comes looking for her.
Her best friends, a group she calls the Hexagon, have always been schemers. They scheme for kicks and giggles. What happens when you microwave a sock? They scheme to change their small town of Otters Holt, Kentucky, for the better. Why not campaign to save the annual Harvest Festival we love so much? They scheme because they need to scheme. How can we get the most unlikely candidate elected to the town's highest honor?
But when they start scheming about love, things go sideways.
In Otters Holt, love has been defined only one way—girl and boy fall in love, get married, and buy a Buick, and there's sex in there somewhere. For Billie—a box-defying dynamo—it's not that simple.
Can the Hexagon, her parents, and the town she calls home handle the real Billie McCaffrey?
Author Courtney Stevens delivers an honest, funny, and endearing account of a girl coming to terms with the gray areas of love, gender, and sexuality while facing the opposition that follows.
---
Sip by Brian Allen Carr
A lyrical, apocalyptic debut novel about addiction, friendship, and the struggle for survival
It started with a single child, and quickly spread: you could get high by drinking your own shadow. At night, lights were destroyed so that addicts could sip shadow in the pure light of the moon.
Gangs of shadow addicts chased down children on playgrounds, rounded up old ladies from retirement homes. Cities were destroyed and governments fell. And if your shadow was sipped entirely, you became one of them, had to find more shadow, at any cost, or go mad.
150 years later, what's left of the world is divided between the highly regimented life of those inside dome-cities that are protected from natural light (and natural shadows), and those forced to the dangerous, hardscrabble life in the wilds outside. In rural Texas, Mira, her shadow-addicted friend Murk, and an ex-Domer named Bale, search for a possible mythological cure to the shadow sickness but they must do so, it is said, before the return of Halley's Comet, which is only days away.
Goodreads Listopia for upcoming August releases:
Goodreads | Twitter | Instagram | Wattpad