Goodreads synopsis included.
6 February
Shadowsong (Wintersong, #2) by S. Jae-Jones
Six months after the end of Wintersong, Liesl is working toward furthering both her brother's and her own musical careers. Although she is determined to look forward and not behind, life in the world above is not as easy as Liesl had hoped. Her younger brother Josef is cold, distant, and withdrawn, while Liesl can't forget the austere young man she left beneath the earth, and the music he inspired in her. 
When troubling signs arise that the barrier between worlds is crumbling, Liesl must return to the Underground to unravel the mystery of life, death, and the Goblin King—who he was, who he is, and who he will be. What will it take to break the old laws once and for all? What is the true meaning of sacrifice when the fate of the world—or the ones Liesl loves—is in her hands?
---
The Edge of Everything (The Edge of Everything, #1) by Jeff Giles
For the perfect love, what would you be willing to lose?
It's been a shattering year for seventeen-year-old Zoe, who's still reeling from her father's shockingly sudden death in a caving accident and her neighbors' mysterious disappearance from their own home. Then on a terrifying sub-zero, blizzardy night in Montana, she and her brother are brutally attacked in a cabin in the woods—only to be rescued by a mysterious bounty hunter they call X.
X is no ordinary bounty hunter. He is from a hell called the Lowlands, sent to claim the soul of Zoe's evil attacker and others like him. X is forbidden from revealing himself to anyone other than his prey, but he casts aside the Lowlands' rules for Zoe. As they learn more about their colliding worlds, they begin to question the past, their fate, and their future.
---
 The Bookworm by Mitch Silver
Why did Hitler chose not to invade England when he had the chance?
Europe, 1940: It's late summer and Belgium has been overrun by the German army. Posing as a friar, a British operative talks his way into the monastery at Villers-devant-Orval just before Nazi art thieves plan to sweep through the area and whisk everything of value back to Berlin. But the ersatz man of the cloth is no thief. Instead, that night he adds an old leather Bible to the monastery's library and then escapes.
London, 2017: A construction worker operating a backhoe makes a grisly discovery—a skeletal arm-bone with a rusty handcuff attached to the wrist. Was this the site, as a BBC newsreader speculates, of "a long-forgotten prison, uncharted on any map?" One viewer knows better: it's all that remains of a courier who died in a V-2 rocket attack. The woman who will put these two disparate events together—and understand the looming tragedy she must hurry to prevent—is Russian historian and former Soviet chess champion Larissa Mendelovg Klimt, "Lara the Bookworm," to her friends. She's also experiencing some woeful marital troubles.
In the course of this riveting thriller, Lara will learn the significance of six musty Dictaphone cylinders recorded after D-Day by Noel Coward—actor, playwright and, secretly, a British agent reporting directly to Winston Churchill. She will understand precisely why that leather Bible, scooped up by the Nazis and deposited on the desk of Adolf Hitler days before he planned to attack Britain, played such a pivotal role in turning his guns to the East. And she will discover the new secret pact negotiated by the nefarious Russian president and his newly elected American counterpart—maverick and dealmaker—and the evil it portends.
Oh, and she'll reconcile with her husband.
---
I Am, I Am, I Am: Seventeen Brushes with Death by Maggie O'Farrell
I AM, I AM, I AM is a memoir with a difference – the unputdownable story of an extraordinary woman's life in near-death experiences. Intelligent, insightful, inspirational, it is a book to be read at a sitting, a story you finish newly conscious of life's fragility, determined to make every heartbeat count.
A childhood illness she was not expected to survive. A teenage yearning to escape that nearly ended in disaster. A terrifying encounter on a remote path. A mismanaged labour in an understaffed hospital. Shocking, electric, unforgettable, this is the extraordinary memoir from Costa Novel-Award winner and Sunday Times bestselling author Maggie O'Farrell.
It is a book to make you question yourself. What would you do if your life was in danger, and what would you stand to lose?
---
The Last to Let Go by Amber Smith
How do you let go of something you've never had?
Junior year for Brooke Winters is supposed to be about change. She's transferring schools, starting fresh, and making plans for college so she can finally leave her hometown, her family, and her past behind.
But all of her dreams are shattered one hot summer afternoon when her mother is arrested for killing Brooke's abusive father. No one really knows what happened that day, if it was premeditated or self-defense, whether it was right or wrong. And now Brooke and her siblings are on their own.
In a year of firsts—the first year without parents, first love, first heartbreak, and her first taste of freedom—Brooke must confront the shadow of her family's violence and dysfunction, as she struggles to embrace her identity, finds her true place in the world, and learns how to let go.
***
13 February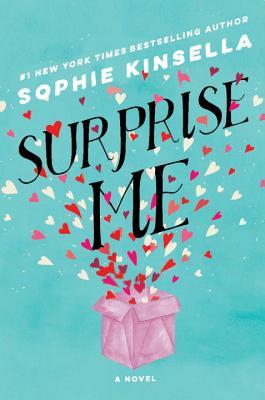 Surprise Me by Sophie Kinsella
After being together for ten years, Sylvie and Dan have all the trimmings of a happy life and marriage; they have a comfortable home, fulfilling jobs, beautiful twin girls, and communicate so seamlessly, they finish each other's sentences. However, a trip to the doctor projects they will live another 68 years together and panic sets in. They never expected "until death do us part" to mean seven decades.
In the name of marriage survival, they quickly concoct a plan to keep their relationship fresh and exciting: they will create little surprises for each other so that their (extended) years together will never become boring. But in their pursuit to execute Project Surprise Me, mishaps arise and secrets are uncovered that start to threaten the very foundation of their unshakable bond. When a scandal from the past is revealed that question some important untold truths, they begin to wonder if they ever really knew each other after all.
---
The Queen of Hearts by Kimmery Martin
A debut novel that pulses with humor and empathy and explores the heart's capacity for forgiveness…
Zadie Anson and Emma Colley have been best friends since their early twenties, when they first began navigating serious romantic relationships amid the intensity of medical school. Now they're happily married wives and mothers with successful careers–Zadie as a pediatric cardiologist and Emma as a trauma surgeon. Their lives in Charlotte, North Carolina are chaotic but fulfilling, until the return of a former colleague unearths a secret one of them has been harboring for years. 
As chief resident, Nick Xenokostas was the center of Zadie's life–both professionally and personally–throughout a tragic chain of events in her third year of medical school that she has long since put behind her. Nick's unexpected reappearance during a time of new professional crisis shocks both women into a deeper look at the difficult choices they made at the beginning of their careers. As it becomes evident that Emma must have known more than she revealed about circumstances that nearly derailed both their lives, Zadie starts to question everything she thought she knew about her closest friend.
***
27 February
Everlife (Everlife, #3) by Gena Showalter
From New York Times bestselling author Gena Showalter comes book three in the unique and exhilarating Everlife series. Tenley "Ten" Lockwood knows the fate of the Everlife rests on her ability to unite the realms and destroy the Prince of Ravens. When betrayal leads to defeat and Ten finds herself bonded to the enemy, an unthinkable choice may the only answer.
---
This Heart of Mine: A Novel by C.C. Hunter
A new heart saved her life—but will it help her find out what really happened to its donor?
Seventeen-year-old Leah MacKenzie is heartless. An artificial heart in a backpack is keeping her alive. However, this route only offers her a few years. And with her rare blood type, a transplant isn't likely. Living like you are dying isn't all it's cracked up to be. But when a heart becomes available, she's given a second chance at life. Except Leah discovers who the donor was — a boy from her school — and they're saying he killed himself. Plagued with dreams since the transplant, she realizes she may hold the clues to what really happened.
Matt refuses to believe his twin killed himself. When Leah seeks him out, he learns they are both having similar dreams and he's certain it means something. While unraveling the secrets of his brother's final moments, Leah and Matt find each other, and a love they are terrified to lose. But life and even new hearts don't come with guarantees. Who knew living, took more courage than dying?
This Heart of Mine is a haunting, poignant tale about living and dying, surviving grief, guilt, and heartache, while discovering love and hope in the midst of sadness.
---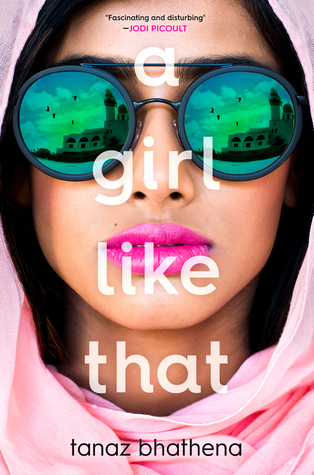 A Girl Like That by Tanaz Bhathena
A timeless exploration of high-stakes romance, self-discovery, and the lengths we go to love and be loved. 
Sixteen-year-old Zarin Wadia is many things: a bright and vivacious student, an orphan, a risk taker. She's also the kind of girl that parents warn their kids to stay away from: a troublemaker whose many romances are the subject of endless gossip at school.  You don't want to get involved with a girl like that, they say. So how is it that eighteen-year-old Porus Dumasia has only ever had eyes for her? And how did Zarin and Porus end up dead in a car together, crashed on the side of a highway in Jeddah, Saudi Arabia? When the religious police arrive on the scene, everything everyone thought they knew about Zarin is questioned. And as her story is pieced together, told through multiple perspectives, it becomes clear that she was far more than just a girl like that. 
This beautifully written debut novel from Tanaz Bhathena reveals a rich and wonderful new world to readers. It tackles complicated issues of race, identity, class, and religion, and paints a portrait of teenage ambition, angst, and alienation that feels both inventive and universal.
Goodreads Listopia for upcoming February releases:
Goodreads | Twitter | Instagram | Wattpad