Goodreads synopsis included.
6 November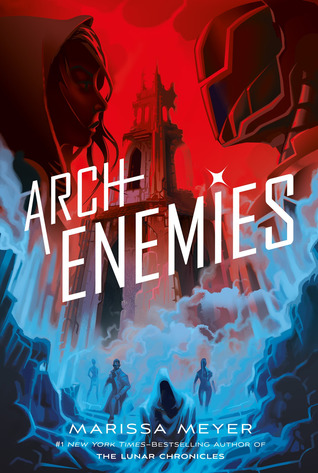 Archenemies (Renegades, #2) by Marissa Meyer
The Renegades Trilogy continues, in this fiercely awaited second installment after the New York Times-bestselling Renegades by Marissa Meyer, author of the Lunar Chronicles.
Time is running out.
Together, they can save the world.
But they each other's worst nightmare.
In Renegades, Nova and Adrian (aka Insomnia and Sketch) fought the battle of their lives against the Anarchist known as the Detonator. It was a short-lived victory.
The Anarchists still have a secret weapon, one that Nova believes will protect her. The Renegades also have a strategy for overpowering the Anarchists, but both Nova and Adrian understand that it could mean the end of Gatlon City – and the world – as they know it.
---
When Woman Ruled the World: Six Queens of Egypt by Kara Cooney
This riveting narrative explores the lives of six remarkable female pharaohs, from Hatshepsut to Cleopatra–women who ruled with real power–and shines a piercing light on our own perceptions of women in power today. 
Female rulers are a rare phenomenon–but thousands of years ago in ancient Egypt, women reigned supreme. Regularly, repeatedly, and with impunity, queens like Hatshepsut, Nefertiti, and Cleopatra controlled the totalitarian state as power-brokers and rulers. But throughout human history, women in positions of power were more often used as political pawns in a male-dominated society. What was so special about ancient Egypt that provided women this kind of access to the highest political office? What was it about these women that allowed them to transcend patriarchal obstacles? What did Egypt gain from its liberal reliance on female leadership, and could today's world learn from its example?
Celebrated Egyptologist Kara Cooney delivers a fascinating tale of female power, exploring the reasons why it has seldom been allowed through the ages, and why we should care.
---
Nine Perfect Strangers by Liane Moriarty 
Could ten days at a health resort really change you forever? In Liane Moriarty's latest page-turner, nine perfect strangers are about to find out…
Nine people gather at a remote health resort. Some are here to lose weight, some are here to get a reboot on life, some are here for reasons they can't even admit to themselves. Amidst all of the luxury and pampering, the mindfulness and meditation, they know these ten days might involve some real work. But none of them could imagine just how challenging the next ten days are going to be.
Frances Welty, the formerly best-selling romantic novelist, arrives at Tranquillum House nursing a bad back, a broken heart, and an exquisitely painful paper cut. She's immediately intrigued by her fellow guests. Most of them don't look to be in need of a health resort at all. But the person that intrigues her most is the strange and charismatic owner/director of Tranquillum House. Could this person really have the answers Frances didn't even know she was seeking? Should Frances put aside her doubts and immerse herself in everything Tranquillum House has to offer – or should she run while she still can?
It's not long before every guest at Tranquillum House is asking exactly the same question.
Combining all of the hallmarks that have made her writing a go-to for anyone looking for wickedly smart, page-turning fiction that will make you laugh and gasp, Liane Moriarty's Nine Perfect Strangers once again shows why she is a master of her craft.
***
13 November
Becoming by Michelle Obama
An intimate, powerful, and inspiring memoir by the former First Lady of the United States.
In a life filled with meaning and accomplishment, Michelle Obama has emerged as one of the most iconic and compelling women of our era. As First Lady of the United States of America—the first African-American to serve in that role—she helped create the most welcoming and inclusive White House in history, while also establishing herself as a powerful advocate for women and girls in the U.S. and around the world, dramatically changing the ways that families pursue healthier and more active lives, and standing with her husband as he led America through some of its most harrowing moments. Along the way, she showed us a few dance moves, crushed Carpool Karaoke, and raised two down-to-earth daughters under an unforgiving media glare. 
In her memoir, a work of deep reflection and mesmerizing storytelling, Michelle Obama invites readers into her world, chronicling the experiences that have shaped her—from her childhood on the South Side of Chicago to her years as an executive balancing the demands of motherhood and work, to her time spent at the world's most famous address. With unerring honesty and lively wit, she describes her triumphs and her disappointments, both public and private, telling her full story as she has lived it—in her own words and on her own terms. 
Warm, wise, and revelatory, Becoming is the deeply personal reckoning of a woman of soul and substance who has steadily defied expectations—and whose story inspires us to do the same.
---
This Splintered Silence by Kayla Olson
Lindley Hamilton has been the leader of the space station Lusca since every first-generation crew member on board, including her mother, the commander, were killed by a deadly virus.
Lindley always assumed she'd captain the Lusca one day, but she never thought that day would come so soon. And she never thought it would be like this—struggling to survive every day, learning how to keep the Lusca running, figuring out how to communicate with Earth, making sure they don't run out of food.
When a member of the surviving second generation dies from symptoms that look just like the deadly virus, though, Lindley feels her world shrinking even smaller. The disease was supposed to be over; the second generation was supposed to be immune. But as more people die, Lindley must face the terrifying reality that either the virus has mutated or something worse is happening: one of their own is a killer.
---
How She Died, How I lived by Mary Crockett
I was one of five. The five girls Kyle texted that day. The girls it could have been. Only Jamie–beautiful, saintly Jamie–was kind enough to respond. And it got her killed.
On the eve of Kyle's sentencing a year after Jamie's death, all the other "chosen ones" are coping in various ways. But our tenacious narrator is full of anger, stuck somewhere between the horrifying past and the unknown future as she tries to piece together why she gets to live, while Jamie is dead.
Now she finds herself drawn to Charlie, Jamie's boyfriend–knowing all the while that their relationship will always be haunted by what-ifs and why-nots. Is hope possible in the face of such violence? Is forgiveness? How do you go on living when you know it could have been you instead?
***
16 November
Fantastic Beasts: The Crimes of Grindelwald – The Original Screenplay by J.K. Rowling
At the end of Fantastic Beasts and Where to Find Them, the powerful Dark wizard Gellert Grindelwald was captured in New York with the help of Newt Scamander. But, making good on his threat, Grindelwald escapes custody and sets about gathering followers, most unsuspecting of his true agenda: to raise pure-blood wizards up to rule over all non-magical beings.
In an effort to thwart Grindelwald's plans, Albus Dumbledore enlists Newt, his former Hogwarts student, who agrees to help once again, unaware of the dangers that lie ahead. Lines are drawn as love and loyalty are tested, even among the truest friends and family, in an increasingly divided wizarding world.
This second original screenplay from J.K. Rowling, illustrated with stunning line art from MinaLima, expands on earlier events that helped shaped the wizarding world, with some surprising nods to the Harry Potter stories that will delight fans of both the books and films.
***
20 November
Fire & Blood by George R.R. Martin
With all the fire and fury fans have come to expect from internationally bestselling author George R. R. Martin, this is the first volume of the definitive two-part history of the Targaryens in Westeros.
Centuries before the events of A Game of Thrones, House Targaryen—the only family of dragonlords to survive the Doom of Valyria—took up residence on Dragonstone. Fire and Blood begins their tale with the legendary Aegon the Conqueror, creator of the Iron Throne, and goes on to recount the generations of Targaryens who fought to hold that iconic seat, all the way up to the civil war that nearly tore their dynasty apart.
What really happened during the Dance of the Dragons? Why did it become so deadly to visit Valyria after the Doom? What is the origin of Daenerys's three dragon eggs? These are but a few of the questions answered in this essential chronicle, as related by a learned maester of the Citadel and featuring more than eighty all-new black-and-white illustrations by artist Doug Wheatley. Readers have glimpsed small parts of this narrative in such volumes as The World of Ice & Fire, but now, for the first time, the full tapestry of Targaryen history is revealed.
With all the scope and grandeur of Gibbon's The History of the Decline and Fall of the Roman Empire, Fire and Blood is the ultimate game of thrones, giving readers a whole new appreciation for the dynamic, often bloody, and always fascinating history of Westeros.
---
All the Lives We never Lived Anuradha Roy
From the Man Booker Prize-nominated author of Sleeping on Jupiter, The Folded Earth, and An Atlas of Impossible Longing, a poignant and sweeping novel set in India during World War II and the present-day about a son's quest to uncover the truth about his mother. 
In my childhood, I was known as the boy whose mother had run off with an Englishman. The man was in fact German, but in small‑town India in those days, all white foreigners were largely thought of as British.
So begins the story of Myshkin and his mother, Gayatri, a rebellious, alluring artist who abandons parenthood and marriage to follow her primal desire for freedom.
Though freedom may be stirring in the air of India, across the world the Nazis have risen to power in Germany. At this point of crisis, a German artist from Gayatri's past seeks her out. His arrival ignites passions she has long been forced to suppress.
What follows is her life as pieced together by her son, a journey that takes him through India and Dutch‑held Bali. Excavating the roots of the world in which he was abandoned, he comes to understand his long‑lost mother, and the connections between strife at home and a war‑torn universe overtaken by patriotism.
Anuradha Roy's All the Lives We Never Lived is a spellbinding and emotionally powerful saga about family, identity, and love.
***
27 November
Let the Dead Keep Their Secrets (A Gilded Age Mystery, #3) by Rosemary Simpson
In Gilded Age New York, heiress Prudence MacKenzie and ex-Pinkerton Geoffrey Hunter investigate crimes that take them from the slums of Five Points in lower Manhattan to the Fifth Avenue mansions of society's elite. In the late nineteenth century, women are particularly vulnerable . . .
 
LET THE DEAD KEEP THEIR SECRETS
 
Childbirth can be dangerous even for the wealthy. So when opera singer Claire Buchanan shows Prudence and Geoffrey a postmortem cabinet photograph of her deceased twin sister and newborn niece, they express sadness but not surprise. The popular black-bordered portraits are the era's way of coping with the devastating losses that plague every family. What makes this death different is that Claire is convinced Catherine and her child were murdered.
 
Prudence's friend is haunted by a sense of her sister's lingering presence, and by the conviction that her dead twin is demanding justice. Catherine's widower, Aaron Sorensen, is a cold, controlling man who swiftly remarried. Now his second wife is already pregnant and may be in terrible danger. In order to discover the truth and find evidence of Sorensen's guilt, Geoffrey will delve deep into his past while Prudence casts herself as his next victim—putting her own life at grave risk . . . 
Goodreads Listopia for upcoming November releases:
Goodreads | Twitter | Instagram | Wattpad