Goodreads synopsis included.
4 July
The Reason You're Alive by Matthew Quick
The New York Times-bestselling author of The Silver Linings Playbook offers a timely novel featuring his most fascinating character yet, a Vietnam vet embarking on a quixotic crusade to track down his nemesis from the war.
After sixty-eight-year-old David Granger crashes his BMW, medical tests reveal a brain tumor that he readily attributes to his wartime Agent Orange exposure. He wakes up from surgery repeating a name no one in his civilian life has ever heard—that of a Native American soldier whom he was once ordered to discipline. David decides to return something precious he long ago stole from the man he now calls Clayton Fire Bear. It might be the only way to find closure in a world increasingly at odds with the one he served to protect. It might also help him finally recover from his wife's untimely demise.
As David confronts his past to salvage his present, a poignant portrait emerges: that of an opinionated and goodhearted American patriot fighting like hell to stay true to his red, white, and blue heart, even as the country he loves rapidly changes in ways he doesn't always like or understand. Hanging in the balance are Granger's distant art-dealing son, Hank; his adoring seven-year-old granddaughter, Ella; and his best friend, Sue, a Vietnamese-American who respects David's fearless sincerity.
Through the controversial, wrenching, and wildly honest David Granger, Matthew Quick offers a no-nonsense but ultimately hopeful view of America's polarized psyche. By turns irascible and hilarious, insightful and inconvenient, David is a complex, wounded, honorable, and loving man. The Reason You're Alive examines how the secrets and debts we carry from our past define us; it also challenges us to look beyond our own prejudices and search for the good in us all.
---
Serafina and the Splintered Heart (Serafina, #3) by Robert Beaty
The storms are coming….

Something has happened to Serafina. She has awoken into a darkness she does not understand, scarred from a terrible battle, only to find that life at Biltmore Estate has changed in unimaginable ways. Old friends do unthinkable things and enemies seem all around.
A mysterious threat moves towards Biltmore, a force without a name, bringing with it violent storms and flooding that stands to uproot everything in its path. Serafina must uncover the truth about what has happened to her and find a way to harness her strange new powers before it's too late.
With only days to achieve the impossible, Serafina fights to reclaim herself as the Guardian of Biltmore, friend of Braeden, daughter of her Pa, and heroine of the Blue Ridge Mountains and all the folk and creatures that call it home.
In the epic third installment of Robert Beatty's #1 bestselling series, Serafina takes her rightful place among literary champions as she battles fiercely to defend all she loves and become everything that she is meant to be.
---
Made For Love by Alissa Nutting
Hazel has just moved into a trailer park of senior citizens, with her father and Diane—his extremely lifelike sex doll—as her roommates. Life with Hazel's father is strained at best, but her only alternative seems even bleaker. She's just run out on her marriage to Byron Gogol, CEO and founder of Gogol Industries, a monolithic corporation hell-bent on making its products and technologies indispensable in daily life. For over a decade, Hazel put up with being veritably quarantined by Byron in the family compound, her every movement and vital sign tracked. But when he demands to wirelessly connect the two of them via brain chips in a first-ever human "mind-meld," Hazel decides what was once merely irritating has become unbearable. The world she escapes into is a far cry from the dry and clinical bubble she's been living in, a world populated with a whole host of deviant oddballs.
As Hazel tries to carve out a new life for herself in this uncharted territory, Byron is using the most sophisticated tools at his disposal to find her and bring her home. His threats become more and more sinister, and Hazel is forced to take drastic measures in order to find a home of her own and free herself from Byron's virtual clutches once and for all.
***
11 July
Worlds Collide (The Land of Stories, #6) by Chris Colfer
The epic conclusion to Chris Colfer's #1 New York Times bestselling series The Land of Stories!
In the highly anticipated conclusion to the Land of Stories series, Conner and Alex must brave the impossible. All of the Land of Stories fairy tale characters–heroes and villains–are no longer confined within their world!
With mayhem brewing in the Big Apple, Conner and Alex will have to win their biggest battle yet. Can the twins restore order between the human and fairy tale world?
Breathtaking action mixed with laugh out loud moments and lots of heart will make this a gripping conclusion for many fans!
---
Ash and Quill (The Great Library, #3) by Rachel Caine
The unforgettable characters from Ink and Bone and Paper and Fire unite to save the Great Library of Alexandria from itself in this electrifying adventure in the New York Times bestselling series.
Hoarding all the knowledge of the world, the Great Library jealousy guards its secrets. But now a group of rebels poses a dangerous threat to its tyranny….
Jess Brightwell and his band of exiles have fled London, only to find themselves imprisoned in Philadelphia, a city led by those who would rather burn books than submit. But Jess and his friends have a bargaining chip: the knowledge to build a machine that will break the Library's rule.
Their time is running out. To survive, they'll have to choose to live or die as one, to take the fight to their enemies—and to save the very soul of the Great Library….
---
The Zodiac Legacy: The Age of Bronze (Zodiac, #3) by Stuart Moore
It s a heavy-metal battle royale when Maxwell head of the Vanguard organization with the evil powers of the Dragon Zodiac sends an army of robots against Steven Lee, the teenaged Tiger, and his team. Using their new and mysterious powers of the ancient Zodiac, Steven and his teammates must work together like never before to defeat the robotic invaders!"
***
18 July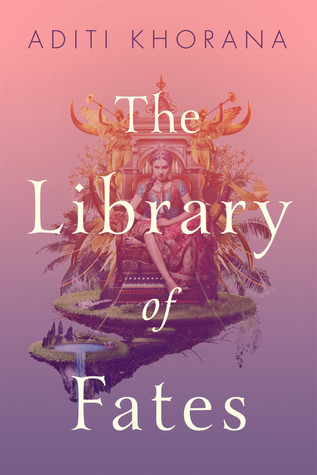 The Library of Fates by Aditi Khorana
A romantic coming-of-age fantasy tale steeped in Indian folklore, perfect for fans of The Star-Touched Queen and The Wrath and the Dawn
No one is entirely certain what brings the Emperor Sikander to Shalingar. Until now, the idyllic kingdom has been immune to his many violent conquests. To keep the visit friendly, Princess Amrita has offered herself as his bride, sacrificing everything—family, her childhood love, and her freedom—to save her people. But her offer isn't enough.
The unthinkable happens, and Amrita finds herself a fugitive, utterly alone but for an oracle named Thala, who was kept by Sikander as a slave and managed to escape amid the chaos of a palace under siege. With nothing and no one else to turn to, Amrita and Thala are forced to rely on each other. But while Amrita feels responsible for her kingdom and sets out to warn her people, the newly free Thala has no such ties. She encourages Amrita to go on a quest to find the fabled Library of All Things, where it is possible for each of them to reverse their fates. To go back to before Sikander took everything from them.
Stripped of all that she loves, caught between her rosy past and an unknown future, will Amrita be able to restore what was lost, or does another life—and another love—await?
***
25 July
Vanguard (Razorland, #4) by Ann Aguirre
The Razorland saga continues. Since the war ended, Tegan has dreamed of an epic journey, so when she has the opportunity to sign on as ship's doctor, she can't wait. It's past time to chart her course. Millie Faraday, the kindest girl in the free territories, also yearns to outrun her reputation, and warrior-poet James Morrow would follow Tegan to the ends of the earth.
Their company seems set, but fate brings one more to their number. Tegan will battle incredible odds while aiding Szarok, the Uroch vanguard, who has ventured forth to save his people. Szarok is strange and beautiful, like a flower that blooms only in the dark. She shouldn't allow him close, as such a relationship is both alien and forbidden. But through stormy seas and strange lands, she will become stronger than she ever knew.
---
The Intuitives by Erin Michelle Sky & Steven Brown
IMAGINATION JUST BECAME OUR GREATEST WEAPON.
A lost tomb full of mythical statues… a strange test with impossible answers… a mysterious institute hosted by Homeland Security. Only six students will receive invitations. But nothing is as it appears to be, including the students themselves.
Roman Jackson, 11—the lonely artist.
Samantha Prescott, 16—the sarcastic nerd.
Daniel Walker, 17—the shy musician.
Ashton Hunt, 17—the frustrated gamer.
Mackenzie Gray, 17—the spiritual fighter.
Kaitlyn Wright, 15—the bubbly engineer.
But why is the U.S. government so interested in six outcasts? And what, exactly, is it teaching them to do? Now, they must band together to uncover the true purpose behind the institute—and the ancient secrets that lie hidden beneath its surface.
Before history catches up to them.
---
Little Monsters by Kara Thomas
For fans of Pretty Little Liars, Little Monsters is a new psychological thriller, from the author of The Darkest Corners, about appearances versus reality and the power of manipulation amongst teenage girls.
Kacey is the new girl in Broken Falls. When she moved in with her father, she stepped into a brand-new life. A life with a stepbrother, a stepmother, and strangest of all, an adoring younger half sister.
Kacey's new life is eerily charming compared with the wild highs and lows of the old one she lived with her volatile mother. And everyone is so nice in Broken Falls—she's even been welcomed into a tight new circle of friends. Bailey and Jade invite her to do everything with them.
Which is why it's so odd when they start acting distant. And when they don't invite her to the biggest party of the year, it doesn't exactly feel like an accident.
But Kacey will never be able to ask, because Bailey never makes it home from that party. Suddenly, Broken Falls doesn't seem so welcoming after all—especially once everyone starts looking to the new girl for answers.
Kacey is about to learn some very important lessons: Sometimes appearances can be deceiving. Sometimes when you're the new girl, you shouldn't trust anyone.
Goodreads Listopia for upcoming July 2017 releases:
Goodreads | Twitter | Instagram | Wattpad