The Book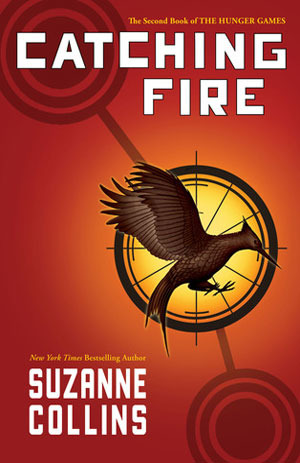 Catching Fire is a 2009 science fiction young adult novel by the American novelist Suzanne Collins, the second book in The Hunger Games trilogy. As the sequel to the 2008 bestseller The Hunger Games, it continues the story of Katniss Everdeen and the post-apocalyptic nation of Panem.
…
Source: Wikipedia
Image Source: Goodreads
I read this after I watched the movie…and then re-watched the movie because I couldn't get enough of this. I don't think it took me very long to finish book. Suzanne Collins' writing is friggin' awesome and the world she created…I wouldn't want to live in it but I think the idea was amazing and very well executed.
The Movie
The Hunger Games: Catching Fire is a 2013 American dystopian science fiction adventure film based on Suzanne Collins' dystopian novel, Catching Fire (2009), the second installment in The Hunger Games trilogy. The film is the sequel to The Hunger Games (2012) and the second installment in The Hunger Games film series, produced by Nina Jacobson and Jon Kilik, and distributed by Lionsgate. Francis Lawrence directed the film, with a screenplay by Simon Beaufoy and Michael Arndt.
Source: Wikipedia
Image Source: Google Images
The Catching Fire movie was my introduction into The Hunger Games trilogy. I made a deal with a friend. I'd go watch Catching Fire with him if he watched Thor: The Dark World with me. Obviously the movie franchise is just as popular as it's novel counterpart and at the time I stayed away from overhyped things, so I was quite reluctant to watch this movie. I came out of the cinema needing to read all the books because I fell in love. Also, out of all the movie adaptations of the trilogy, this one is my favourite because it was almost exactly like the book.
The Decision
Hmm…tough choice to make. I'd go with the movie for this one since that is where my love for this series started.
Goodreads | Twitter | Instagram | Wattpad