Goodreads synopses included.
6 June
The Alice Network by Kate Quinn
1947. In the chaotic aftermath of World War II, American college girl Charlie St. Clair is pregnant, unmarried, and on the verge of being thrown out of her very proper family. She's also nursing a desperate hope that her beloved cousin Rose, who disappeared in Nazi-occupied France during the war, might still be alive. So when Charlie's parents banish her to Europe to have her "little problem" taken care of, Charlie breaks free and heads to London, determined to find out what happened to the cousin she loves like a sister.
1915. A year into the Great War, Eve Gardiner burns to join the fight against the Germans and unexpectedly gets her chance when she's recruited to work as a spy. Sent into enemy-occupied France, she's trained by the mesmerizing Lili, the "Queen of Spies", who manages a vast network of secret agents right under the enemy's nose.
Thirty years later, haunted by the betrayal that ultimately tore apart the Alice Network, Eve spends her days drunk and secluded in her crumbling London house. Until a young American barges in uttering a name Eve hasn't heard in decades, and launches them both on a mission to find the truth …no matter where it leads.
---
I Can't Make This Up: Life Lessons by Kevin Hart
Superstar comedian and Hollywood box office star Kevin Hart turns his immense talent to the written word by writing some words. Some of those words include: the, a, for, above, and even even. Put them together and you have the funniest, most heartfelt, and most inspirational memoir on survival, success, and the importance of believing in yourself since Old Yeller.
The question you're probably asking yourself right now is: What does Kevin Hart have that a book also has?
According to the three people who have seen Kevin Hart and a book in the same room, the answer is clear:
A book is compact. Kevin Hart is compact.
A book has a spine that holds it together. Kevin Hart has a spine that holds him together.
A book has a beginning. Kevin Hart's life uniquely qualifies him to write this book by also having a beginning.
It begins in North Philadelphia. He was born an accident, unwanted by his parents. His father was a drug addict who was in and out of jail. His brother was a crack dealer and petty thief. And his mother was overwhelmingly strict, beating him with belts, frying pans, and his own toys.
The odds, in short, were stacked against our young hero, just like the odds that are stacked against the release of a new book in this era of social media (where Hart has a following of over 100 million, by the way).
But Kevin Hart, like Ernest Hemingway, JK Rowling, and Chocolate Droppa before him, was able to defy the odds and turn it around. In his literary debut, he takes the reader on a journey through what his life was, what it is today, and how he's overcome each challenge to become the man he is today.
And that man happens to be the biggest comedian in the world, with tours that sell out football stadiums and films that have collectively grossed over $3.5 billion.
He achieved this not just through hard work, determination, and talent: It was through his unique way of looking at the world. Because just like a book has chapters, Hart sees life as a collection of chapters that each person gets to write for himself or herself.
"Not only do you get to choose how you interpret each chapter, but your interpretation writes the next chapter," he says. "So why not choose the interpretation that serves your life the best?"
---
Dramatically Ever After (Ever After, #2) by Isabel Bandeira
Senior year is not shaping up to be the picture perfect movie Em Katsaros had imagined. Her super hot leading man is five thousand miles away. Her dad just got laid off. And Em can kiss her first-pick university goodbye if she doesn't snag a scholarship.
To turn this Shakespearean tragedy into the Academy Award-winning dream Em has written for herself, she enters a speech competition and manages to cinch a spot in the US Youth Change Council national round. She gets to spend a week in Boston and her prayers might be answered if she can kick butt and win one of the national scholarships.
Everything seems to be going by the script until she finds out Kris Lambert—senior class president, stuck-up jerk, and her nemesis—is going, too. Cue the dramatic music. In Boston, Kris is different. Nice. Cute, even. But she knows his game way too well—be nice to your opponents and then throw them under the bus on your way to victory. Instead of becoming his next victim, Em decides to turn the tables by putting her acting and flirting skills to work. Unfortunately, as they get close to the final competition and judging, reality and acting start to blur.
Can Em use the drama from the stage to get the future she's been dreaming of?
---
Once and for All by Sarah Dessen
As bubbly as champagne and delectable as wedding cake, Once and for All, Sarah Dessen's thirteenth novel, is set in the world of wedding planning, where crises are routine.
Louna, daughter of famed wedding planner Natalie Barrett, has seen every sort of wedding: on the beach, at historic mansions, in fancy hotels and clubs. Perhaps that's why she's cynical about happily-ever-after endings, especially since her own first love ended tragically. When Louna meets charming, happy-go-lucky serial dater Ambrose, she holds him at arm's length. But Ambrose isn't about to be discouraged, now that he's met the one girl he really wants.
Sarah Dessen's many, many fans will adore her latest, a richly satisfying, enormously entertaining story that has everything—humor, romance, and an ending both happy and imperfect, just like life itself.
---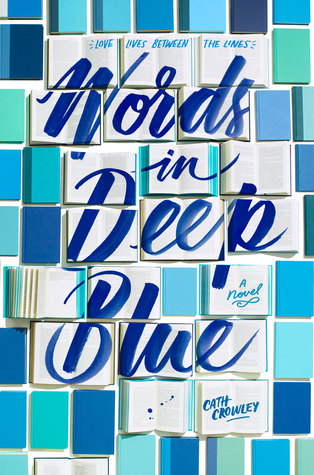 Words in Deep Blue by Cath Crowley
Years ago, Rachel had a crush on Henry Jones. The day before she moved away, she tucked a love letter into his favorite book in his family's bookshop. She waited. But Henry never came.
Now Rachel has returned to the city—and to the bookshop—to work alongside the boy she'd rather not see, if at all possible, for the rest of her life. But Rachel needs the distraction. Her brother drowned months ago, and she can't feel anything anymore.
As Henry and Rachel work side by side—surrounded by books, watching love stories unfold, exchanging letters between the pages—they find hope in each other. Because life may be uncontrollable, even unbearable sometimes. But it's possible that words, and love, and second chances are enough.
***
13 June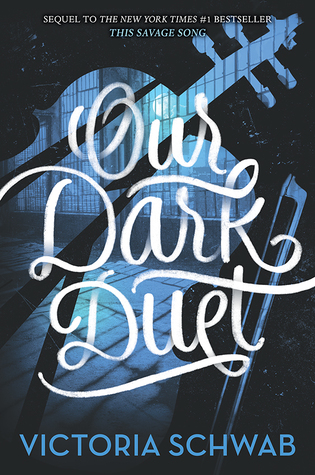 Our Dark Duet (Monsters of Verity, #2) by Victoria Schwab
Kate Harker is a girl who isn't afraid of the dark. She's a girl who hunts monsters. And she's good at it. August Flynn is a monster who can never be human, no matter how much he once yearned for it. He's a monster with a part to play. And he will play it, no matter the cost.
Nearly six months after Kate and August were first thrown together, the war between the monsters and the humans is terrifying reality. In Verity, August has become the leader he never wished to be, and in Prosperity, Kate has become the ruthless hunter she knew she could be. When a new monster emerges from the shadows—one who feeds on chaos and brings out its victim's inner demons—it lures Kate home, where she finds more than she bargained for. She'll face a monster she thought she killed, a boy she thought she knew, and a demon all her own.
---
Hunger: A Memoir of (My) Body by Roxanne Gay
From the bestselling author of Bad Feminist: a searingly honest memoir of food, weight, self-image, and learning how to feed your hunger while taking care of yourself
"I ate and ate and ate in the hopes that if I made myself big, my body would be safe. I buried the girl I was because she ran into all kinds of trouble. I tried to erase every memory of her, but she is still there, somewhere. . . . I was trapped in my body, one that I barely recognized or understood, but at least I was safe."
In her phenomenally popular essays and long-running Tumblr blog, Roxane Gay has written with intimacy and sensitivity about food and body, using her own emotional and psychological struggles as a means of exploring our shared anxieties over pleasure, consumption, appearance, and health. As a woman who describes her own body as "wildly undisciplined," Roxane understands the tension between desire and denial, between self-comfort and self-care. In Hunger, she explores her own past—including the devastating act of violence that acted as a turning point in her young life—and brings readers along on her journey to understand and ultimately save herself.
With the bracing candor, vulnerability, and power that have made her one of the most admired writers of her generation, Roxane explores what it means to learn to take care of yourself: how to feed your hungers for delicious and satisfying food, a smaller and safer body, and a body that can love and be loved—in a time when the bigger you are, the smaller your world becomes.
---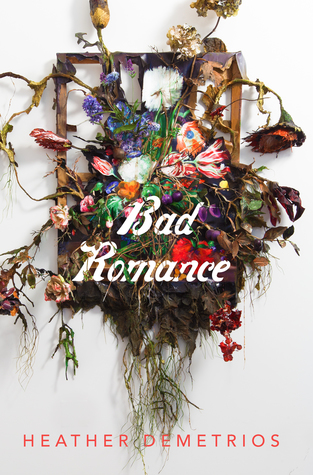 Bad Romance by Heather Demetrios
Grace wants out. Out of her house, where her stepfather wields fear like a weapon and her mother makes her scrub imaginary dirt off the floors. Out of her California town, too small to contain her big city dreams. Out of her life, and into the role of Parisian artist, New York director—anything but scared and alone.
Enter Gavin: charming, talented, adored. Controlling. Dangerous. When Grace and Gavin fall in love, Grace is sure it's too good to be true. She has no idea their relationship will become a prison she's unable to escape.
Deeply affecting and unflinchingly honest, this is a story about spiraling into darkness—and emerging into the light again.
***
27 June
Seven Stones to Stand or Fall (Outlander) by Diana Gabaldon
>>>>><<<<<
A collection of seven short stories set in the Outlander universe, never before published together, including two original stories.
This riveting, romantic collection includes: -Besieged- (original novella), -Survival- (original novella), -Virgins, – -The Space Between, – -Lord John and the Plague of Zombies, – -A Leaf on the Wind of All Hallows- and -The Custom of the Army.-
---
Midnight Jewel by Richelle Mead
In MIDNIGHT JEWEL, Richelle Mead goes beyond the glitz and glamour of the Glittering Court, delving into the dark, political underbelly of Cape Triumph through the eyes of one girl who dares to fight for her freedom.
A refugee of war, Mira was cast out of her home country and thrust into another, where the conditions were inhospitable at best. In a life-altering twist of fate, she is given the chance to escape once more, and she takes it, joining the Glittering Court.
Both a school and a business venture, the Glittering Court is designed to transform impoverished girls into upper-class ladies who appear destined for powerful and wealthy marriages in the New World. There, Mira finds herself subjected to persecution, not only from her fellow Glittering Court jewels, but from her suitors, as well—men she would potentially be expected to give her life to.
By day, she goes through the motions, learning the etiquette and customs that will help to earn her anonymity, even making a couple true friends in the process, the forthright ladies' maid Adelaide and the ambitious laundress Tamsin. But by night, Mira hatches a different plan entirely—one that, if exposed, could get her hanged in the highest court of Adoria.
MIDNIGHT JEWEL is the extraordinary story of a girl with few options who courageously forges a new path, finding love, passion, lifelong friendships, and maybe even a way to freedom.
Goodreads Listopia for upcoming June 2017 Releases:
Goodreads | Twitter | Instagram | Wattpad