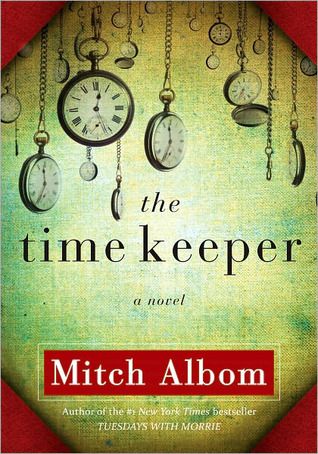 Goodreads Synopsis
In this fable, the first man on earth to count the hours becomes Father Time.
The inventor of the world's first clock is punished for trying to measure God's greatest gift. He is banished to a cave for centuries and forced to listen to the voices of all who come after him seeking more days, more years. Eventually, with his soul nearly broken, Father Time is granted his freedom, along with a magical hourglass and a mission: a chance to redeem himself by teaching two earthly people the true meaning of time.
He returns to our world – now dominated by the hour-counting he so innocently began – and commences a journey with two unlikely partners: one a teenage girl who is about to give up on life, the other a wealthy old businessman who wants to live forever. To save himself, he must save them both. And stop the world to do so.
---
Trigger Warnings: Underage drinking, suicide attempt.
I'd never read a book about Father Time before this so I was really looking forward to seeing how Mitch Albom executed the tale of the personification of time itself.
'"There is a reason God limits our days."
"Why?"
"To make each one precious."'
When I started the book, I thought that it'd be an easy one. I'd finish it quickly and then write out a review and all would be said and done. While the book wasn't a difficult read or heavy on the heart, I had no idea how I was going to review it. The only thing I was absolutely certain of was that I was loving it.
Father Time, Dor as he was known before he became the inventor of the thing that weighs a lot of us down, is described to be an old man with a beard that's so long it reaches his knees. I laughed at this description and thought that we'd found a man whose beard was longer than Dumbledore's. Because Dor can't resist counting; the moments, the cycles of the moon, breaths…he is 'punished' to live in a cave and listen to the consequences of wanting this power caused. How long? Till when Heaven meets Earth.
"Sitting high above the city, Father Time realized that knowing something and understanding it were not the same thing."
In our current time we meet Sarah Lemon, a seventeen year old girl who doesn't want more time, she just wants it to stop. And Victor Delemonte, an eighty-six year old man who wants nothing but time. He wants all the time he could possibly get. When Dor's 'sentence' ends, he's tasked with the job to find these two people and bring them together. He doesn't know for what yet, but as the book goes on, the plan unfolds and it's all pieced together.
I can't really say what emotions I felt while reading this book. Opinions were formed sure, but those didn't directly relate to what I was feeling at the moment. I had a lot of questions and a lot of them was me wanting to know why? One man wanted to live forever and one girl thought that one guy was the be all and end all of her entire existence.
"Ends are for yesterdays, not tomorrow."
I really liked this book and thought it was really great. I don't typically read books that talk about life, the universe, and everything but something about the synopsis drew me in and it was a spur of the moment buy for me. I've owned The First Phone Call From Heaven for a while now, but after reading this, I want to read that as soon as possible.
What I liked especially about this book was that to explain the situation, Father Time put things in perspective for Sarah and Victor and he didn't make the choice for them. He showed them how they got here and what happened after they were gone. The rest was up to them.
I think that Mitch Albom wrote a very beautiful piece. This was inspiring, amazing, and everything in between.
'"Time is not something you give back. The very next moment may be an answer to your prayer. To deny that is to deny the most important part of the future."
"What's that?"
"Hope."'
**Not apologising for all the quotes used. They were just too good to pass up.
Read: 22 May 2017
Rating: ★★★★
Publication Date: 1 May 2013
Publisher: Sphere
Link to Author's Goodreads Page: Mitch Albom
Goodreads | Twitter | Instagram | Wattpad