The Book
The Perks of Being a Wallflower is a coming-of-age epistolary novel by American writer Stephen Chbosky which was first published on February 1, 1999, by Pocket Books. Set in the early 1990s, the novel follows Charlie, an introverted teenager, through his freshman year of high school in a Pittsburgh suburb.
Source: Wikipedia
Image Source: Goodreads
When word came out that this book was being made into a movie, I definitely jumped on the band wagon. I've only ever used the line 'And in that moment, we were infinite' maybe once in my life and that was already one too many times for me. I liked the book well enough but I didn't fall in love with it and it's not something I'd ever go back to. I did like the plot line and I do think that the story is realistic and relatable enough from the freshman in high school perspective.
The Movie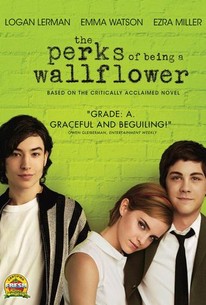 The Perks of Being a Wallflower is a 2012 American coming-of-age, drama film.[4] An adaptation of the 1999 epistolary novel of the same name, it was written and directed by the novel's author, Stephen Chbosky.
Source: Wikipedia
Image Source: Google Images
The only reason I watched this movie was because of the cast. I was just getting over my grief of the Harry Potter movie franchise ending so naturally I followed Emma Watson into her next movie. Logan Lerman and Ezra Miller were added bonuses for me. I won't lie and say I didn't end up liking the movie. I think that it painted a great visual picture and I wouldn't say no to ever watching it again.
The Decision
I think it's clear what I chose here. The movie wins for me, hands down. I'll admit that I've only ever read the book and watched the movie once. I had bad history where this story is considered but I'm over it now so I don't look negatively on it anymore. This book was one of my first introductions into the world of Mental Illness and if I'd discovered it now, knowing what I know, I would have enjoyed it more.
Goodreads | Twitter | Instagram | Wattpad