Okay! Let's get this show on the road. Now it's no secret that I never read Harry Potter as a kid and I'm still not over it. Do you know how much better my life could've been if I was introduced to the magical world of Harry Potter at a younger age?
I'll tell you how all this started. I read one book as a kid, one. Want to know what it was? My yellow children's bible. I had two copies of it, one in English and another in Afrikaans. I was so dedicated to that book, I refused to even look at another book. The thing is, I didn't grow up in a house where reading was a thing. My parents didn't read me bedtime stories- I read them to myself (yellow bible come through). I went to the library every week but I can't tell you what books I borrowed because I can't remember.
I was about 10 when I was introduced to Harry Potter. Right in time for my Hogwarts letter to arrive. But I can't talk about Harry Potter and the magical world with mentioning my mom. My mother, sweet woman that she is, gets a bit crazy whenever J.K. Rowling is mentioned. Like any excited kid, naturally I went to my mom when my eyes were opened to Harry Potter and you know what she said? 'I don't want you watching that witchcraft." Witchcraft? Hell yea it's witchcraft! Guys, she wouldn't even let me watch those shows about magic tricks. I ignored her and thank God I did because my life without Harry Potter would've been like a life without happiness.
When it came time to my buy my first Harry Potter book- The Deathly Hallows- I'm telling you, a war broke out in my home. And here the worst part wasn't that my mom was buying me a book filled with witchcraft, the book itself was hella expensive. I still have it though and I've read it thrice, so I don't see the issue.
My mom's the kind of person who wants to know what I'm reading and is very concerned because she knows that if you get too into something, it could take over you. She had absolutely no problem with Twilight and The Vampire Diaries but HP she has a problem with. Priorities, mother! When I explained to her that DH was the last and final book of the HP series and I just had to have it because the movie was going to come out in a year or two, the look on her face said it all…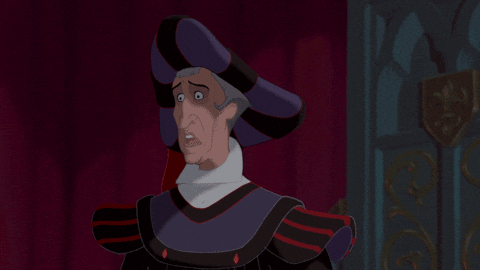 I got the book though so I think I won that battle.
Harry Potter marathons come on TV every couple of months and I always make sure I'm there to watch at least the first and last 2 movies. My mom always finds reasons to add in her own commentary. 'I don't like that woman.' 'How can someone write something like that? And for children no less.' 'She must be very evil to think of an idea like this.' Yes! My mother called JKR evil. Who does that?
I got so defensive when she first started but now I laugh. I legit find it extremely funny that after all these years my mom still hasn't let it go.
One thing's for certain though, young or old, Harry Potter's for everyone and if others can't understand our love, that's okay. At least we know the truth.
So there you have it. Just a little humorous post to put smiles on faces. My mom may have her set ideas on some things but I love her regardless.
Thanks for stopping by,
Caron xx
Goodreads | Twitter | Instagram | Wattpad