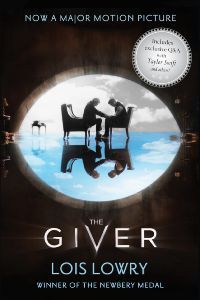 Goodreads Synopsis
"I have great honor," The Giver said. "So will you. But you will find that is not the same as power."
Life in the community where Jonas lives is idyllic. Designated birthmothers produce newchildren, who are assigned to appropriate family units: one male, one female, to each. Citizens are assigned their partners and their jobs. No one thinks to ask questions. Everyone obeys. The community is a world without conflict, inequality, divorce, unemployment injustice…or choice.
Everyone is the same.
Except Jonas.
At the Ceremony of Twelve, the community's twelve-year-olds eagerly accept their predetermined Life Assignments. But Jonas is chosen for something special. He begins instruction in his life's work with a mysterious old man known only as The Giver. Gradually Jonas learns that power lies in feelings. But when his own power is put to the test—when he must try to save someone he loves—he may not be ready. Is it too soon? Or too late?
---
In The Giver, things such as inequality, conflict…choice in general are foreign concepts. Everything and everyone are assigned to what and who they'd be best suited with. No one argues with this because that would ruin the image of perfection.
After I finished this book I had to take a few days to gather my thoughts because I honestly had no idea how I felt about the story as a whole. Lois Lowry wrote what is in my opinion a great book. The idea of the plot is just so…out there. Like, imagine a perfect world. Imagine if people could achieve this perfect world, where being 'different' isn't a thing. Everyone looks the same, acts the same, and there's no room for judgement, rudeness or conflict.
I didn't read the synopsis, which is not unusual for me so I went in not knowing anything really. The idea did occur to me that yes, a world where there's no hate, no war…no hunger, would be perfect and amazing. I found myself wishing for just that but then I stopped to think: at what cost would all of this be possible? And that right there is the punchline to the joke that in actual fact is not a joke at all.
This book is categorised as 'Middle Grade' and I personally believe that that's only because of how old the main character, Jonas, is. He's eleven when all this starts so he's starting to see the world in a new light. Asking more questions that in this community, one is not supposed to ask. There's nothing middle grade about this book though. I found this to be horrific but not in a scary close-your-eyes way, more like…when the image is put in your mind, and you think of what goes on behind the scenes, it's frightening. I think this is where the term 'ignorance is bliss' comes in. These people don't know what they're missing, so it's not a problem for them.
I did like that this was told from a child's point of view. Jonas has this innocence about him. He starts out as a curious kid and in the end, he's fighting for his life. All because of him knowing the truth. Not many people like change, but I think this was taking it to a new level.
Heaven alone knows why I took so long to get to this book because I thought it was amazing. Once I had a free moment, I finished it and I couldn't decide where I stood with everything. I'm still in a state of- I want to say confusion.
Lois Lowry did an excellent job with this book. I greatly enjoyed her writing style and look forward to continuing The Giver Quartet.
Read: 13 May 2017
Rating: ★★★★
Publication Date: 1 July 2014
Publisher: Houghton Mifflin Harcourt
Link to Author's Goodreads Page: Lois Lowry
Goodreads | Twitter | Instagram | Wattpad