The Book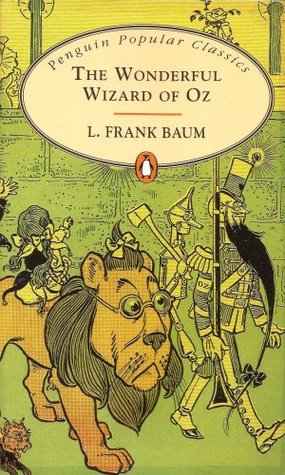 The Wonderful Wizard of Oz is an American children's novel written by author L. Frank Baum and illustrated by W. W. Denslow, originally published by the George M. Hill Company in Chicago on May 17, 1900. It has since been reprinted on numerous occasions, most often under the title The Wizard of Oz, which is the title of the popular 1902 Broadway musical as well as the iconic 1939 musical film adaptation.
Source: Wikipedia
Image Source: Goodreads
I never read The Wizard of Oz as a kid so a couple of months ago I decided to pick up the book since I own 12 out of the entire series. I enjoyed it a lot more than I thought I would! As I read on though…I found out that the shoes were originally silver and not blue but research helped me realise that the red would show up better on technicolour screens. I felt like a kid again as I read this classic. This was a very quick read and it really teaches you so much. I've been finding a lot of hidden gems in older books lately. Things my parents taught me and random morals and values I learnt when I was younger.
The Movie
The Wizard of Oz is a 1939 American musical fantasy comedy-drama film produced by Metro-Goldwyn-Mayer, and the best-known and most commercially successful adaptation based on the 1900 novel The Wonderful Wizard of Oz by L. Frank Baum.[4] The film stars Judy Garland as Dorothy Gale.
Source: Wikipedia
Image Source: Google Images
I watched The Wizard of Oz musical a few times as a kid but it's been years so I decided to re-watch it so I could have a clearer picture. I feel like this is one of those stories that you can always go back to because it never loses it's magic. I have a bad habit of watching one movie over 2-3 days but I maybe only paused this movie maybe once. I sang along a few times and for once I was watching a movie to enjoy it and now specifically to compare it to the book. As I was watching though, all I wanted to do when I was done was listen to Straight Outta Oz by Todrick Hall again. I really loved this movie.
The Decision
As much as I enjoyed the book, I'll have to go with the movie on this one. Besides there are so many other books that follow The Wonderful Wizard of Oz that me choosing the movie over the book for the first one isn't bad at all. I really liked seeing the story come to life and if you didn't know already: I kind of have a weaknesses for musicals.
Goodreads | Twitter | Instagram | Wattpad