May seems to be the month of book releases.
Goodreads synopsis included.
2 May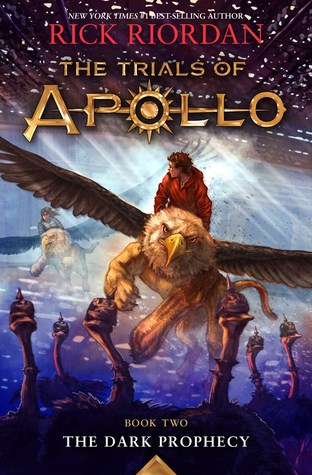 The Dark Prophecy (The Trials of Apollo, #2) by Rick Riordan
Zeus has punished his son Apollo—god of the sun, music, archery, poetry, and more—by casting him down to earth in the form of a gawky, acne-covered sixteen-year-old mortal named Lester. The only way Apollo can reclaim his rightful place on Mount Olympus is by restoring several Oracles that have gone dark. What is affecting the Oracles, and how can Apollo do anything about them without his powers? After experiencing a series of dangerous—and frankly, humiliating—trials at Camp Half-Blood, Apollo must now leave the relative safety of the demigod training ground and embark on a hair-raising journey across North America. Fortunately, what he lacks in godly graces he's gaining in new friendships—with heroes who will be very familiar to fans of the Percy Jackson and the Olympians and Heroes of Olympus series. Come along for what promises to be a harrowing, hilarious, and haiku-filled ride. . . .
---
 From Percy Jackson: Camp Half-Blood Confidential (An Official Rick Riordan Companion Book): Your Real Guide to the Demigod Training Camp by Rick Riordan
In response to an awful camp orientation video created by the god Apollo, Percy Jackson and other residents of Camp Half-Blood answer such questions as "What is this place?" and "Do I get to keep the T-shirt?" Newbies can check out the section on the Divine Cabins, read up on Magical Landmarks, and consult the chapter of Training Arenas. But Camp Half-Blood Confidential explores much more than just the buildings and grounds. It includes info that can only be learned from those who live there.
For instance, campers do not always co-exist in peace and harmony. The camp is not run with superior efficiency. Prophecies do not flow forth with great regularity. Sprinkled throughout are stories from heroes who have called Camp Half-Blood home or just passed through on their way to places unknown. Chiron himself introduces the book with a brief history of training based on his millennia of experience. And, of course, there are divine words of wisdom from the god Apollo himself, because . . . well, because the demigod authors would prefer not to be struck down, thank you very much.
---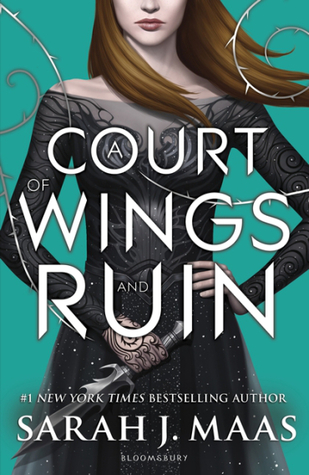 A Court of Wings and Ruin (A Court of Thorns and Roses, #3) by Sarah J. Maas
Looming war threatens all Feyre holds dear in the third volume of the #1 New York Times bestselling A Court of Thorns and Roses series.
Feyre has returned to the Spring Court, determined to gather information on Tamlin's maneuverings and the invading king threatening to bring Prythian to its knees. But to do so she must play a deadly game of deceit-and one slip may spell doom not only for Feyre, but for her world as well.
As war bears down upon them all, Feyre must decide who to trust amongst the dazzling and lethal High Lords-and hunt for allies in unexpected places.
In this thrilling third book in the #1 New York Times bestselling series from Sarah J. Maas, the earth will be painted red as mighty armies grapple for power over the one thing that could destroy them all.
---
Always and Forever, Lara Jean (To All the Boys I've Loved Before, #3) by Jenny Han
Lara Jean's letter-writing days aren't over in this surprise follow-up to the New York Times bestselling To All the Boys I've Loved Before and P.S. I Still Love You.
Lara Jean is having the best senior year a girl could ever hope for. She is head over heels in love with her boyfriend, Peter; her dad's finally getting remarried to their next door neighbor, Ms. Rothschild; and Margot's coming home for the summer just in time for the wedding.
But change is looming on the horizon. And while Lara Jean is having fun and keeping busy helping plan her father's wedding, she can't ignore the big life decisions she has to make. Most pressingly, where she wants to go to college and what that means for her relationship with Peter. She watched her sister Margot go through these growing pains. Now Lara Jean's the one who'll be graduating high school and leaving for college and leaving her family—and possibly the boy she loves—behind.
When your heart and your head are saying two different things, which one should you listen to?
---
Saga Book Two by Brian K. Vaughn
At long last, it's finally time for the second hardcover collection of Saga, the New York Times best-selling series praised by everyone from Alan Moore to Lin-Manuel Miranda!
Created by the multiple Eisner Award-winning team of artist Fiona Staples (Mystery Society, North 40, Archie Comics) and writer Brian K. Vaughan (The Private Eye, Paper Girls, We Stand On Guard), Saga Book Two continues the action-packed education of Hazel, a child born to star-crossed parents from opposite sides of a never-ending galactic war.
Collecting 18 issues of the smash-hit comic, this massive edition features a striking original cover from Fiona Staples, as well as a brand-new gallery of exclusive, never-before-seen Saga artwork from legendary creators including Cliff Chiang, Pia Guerra, Faith Erin Hicks, Karl Kerschl, Jason Latour, Sean Gordon Murphy, Steve Skroce, and more!
Collects SAGA #19-36.
---
Star Wars: Rebel Rising by Beth Revis
When Jyn Erso was five years old, her mother was murdered and her father taken from her to serve the Empire. But despite the loss of her parents she is not completely alone—Saw Gerrera, a man willing to go to any extremes necessary in order to resist Imperial tyranny, takes her in as his own, and gives her not only a home but all the abilities and resources she needs to become a rebel herself.
Jyn dedicates herself to the cause—and the man. But fighting alongside Saw and his people brings with it danger and the question of just how far Jyn is willing to go as one of Saw's soldiers. When she faces an unthinkable betrayal that shatters her world, Jyn will have to pull the pieces of herself back together and figure out what she truly believes in…and who she can really trust.
---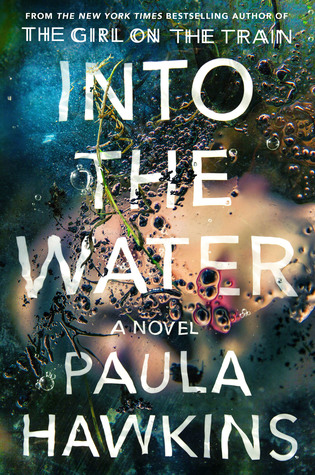 Into the Water by Paula Hawkins
The author of the #1 New York Times bestseller and global phenomenon The Girl on the Train returns with Into the Water, her addictive new novel of psychological suspense.
A single mother turns up dead at the bottom of the river that runs through town. Earlier in the summer, a vulnerable teenage girl met the same fate. They are not the first women lost to these dark waters, but their deaths disturb the river and its history, dredging up secrets long submerged.
Left behind is a lonely fifteen-year-old girl. Parentless and friendless, she now finds herself in the care of her mother's sister, a fearful stranger who has been dragged back to the place she deliberately ran from—a place to which she vowed she'd never return.
With the same propulsive writing and acute understanding of human instincts that captivated millions of readers around the world in her explosive debut thriller, The Girl on the Train, Paula Hawkins delivers an urgent, twisting, deeply satisfying read that hinges on the deceptiveness of emotion and memory, as well as the devastating ways that the past can reach a long arm into the present.
Beware a calm surface—you never know what lies beneath.
***
9 May
Men Without Women by Haruki Murakami
A dazzling new collection of short stories–the first major new work of fiction from the beloved, internationally acclaimed, Haruki Murakami since his #1 best-selling Colorless Tsukuru Tazaki and His Years of Pilgrimage.
Across seven tales, Haruki Murakami brings his powers of observation to bear on the lives of men who, in their own ways, find themselves alone. Here are vanishing cats and smoky bars, lonely hearts and mysterious women, baseball and the Beatles, woven together to tell stories that speak to us all.
Marked by the same wry humor that has defined his entire body of work, in this collection Murakami has crafted another contemporary classic.
***
23 May
Lord of Shadows (The Dark Artifices, #2) by Cassandra Clare
Sunny Los Angeles can be a dark place indeed in Cassandra Clare's Lord of Shadows, the sequel to the #1 New York Times and USA TODAY bestselling Lady Midnight.
Emma Carstairs has finally avenged her parents. She thought she'd be at peace. But she is anything but calm. Torn between her desire for her parabatai Julian and her desire to protect him from the brutal consequences of parabatai relationships, she has begun dating his brother, Mark. But Mark has spent the past five years trapped in Faerie; can he ever truly be a Shadowhunter again?
And the faerie courts are not silent. The Unseelie King is tired of the Cold Peace, and will no longer concede to the Shadowhunters' demands. Caught between the demands of faerie and the laws of the Clave, Emma, Julian, and Mark must find a way to come together to defend everything they hold dear—before it's too late.
***
30 May
One of Us Is Lying by Karen M. McManus
One of Us Is Lying is the story of what happens when five strangers walk into detention and only four walk out alive. Everyone is a suspect, and everyone has something to hide.
 
Pay close attention and you might solve this.
On Monday afternoon, five students at Bayview High walk into detention.
    Bronwyn, the brain, is Yale-bound and never breaks a rule.
    Addy, the beauty, is the picture-perfect homecoming princess.
    Nate, the criminal, is already on probation for dealing.
    Cooper, the athlete, is the all-star baseball pitcher.
    And Simon, the outcast, is the creator of Bayview High's notorious gossip app.
 
Only, Simon never makes it out of that classroom. Before the end of detention Simon's dead. And according to investigators, his death wasn't an accident. On Monday, he died. But on Tuesday, he'd planned to post juicy reveals about all four of his high-profile classmates, which makes all four of them suspects in his murder. Or are they the perfect patsies for a killer who's still on the loose?
 
Everyone has secrets, right? What really matters is how far you would go to protect them.
Goodreads Listopia for upcoming May 2017 releases:
Goodreads | Twitter | Instagram | Wattpad