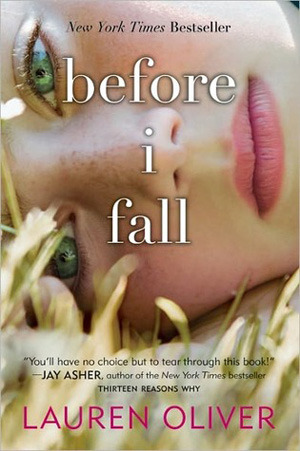 Goodreads Synopsis
With this stunning debut novel, New York Times bestselling author Lauren Oliver emerged as one of today's foremost authors of young adult fiction. Like Jay Asher's Thirteen Reasons Why and Gayle Forman's If I Stay, Before I Fall raises thought-provoking questions about love, death, and how one person's life can affect so many others.
For popular high school senior Samantha Kingston, February 12—"Cupid Day"—should be one big party, a day of valentines and roses and the privileges that come with being at the top of the social pyramid. And it is…until she dies in a terrible accident that night.
However, she still wakes up the next morning. In fact, Sam lives the last day of her life seven times, until she realizes that by making even the slightest changes, she may hold more power than she ever imagined.
Named to numerous state reading lists, this novel was also recognized as a Best Book of the Year by Amazon.com, Barnes & Noble, The Daily Beast, NPR, and Publishers Weekly. It has been optioned for film by Fox 2000 Pictures.
Supports the Common Core State Standards.
---
Trigger Warning: This book contains suicide, underage drinking and driving while under the influence.
Before I Fall tells us the story of Samantha Kingston and how she relives the day of her death seven times, each day bringing different results and a different Sam.
It's been a while since I've read anything by Lauren Oliver and I must say that I've really missed her writing. I had to keep reminding myself that this book was written almost a decade ago and the way people thought and acted back then is not the same as it is today. One example I can give, the main thing that stood out for me, is the almost homophobic feel about the characters. Two girls would hug and the response would be 'Are you lesboing out on me?' and I didn't appreciate that and I'll admit that that did affect my overall rating.
Sam starts out as this vain and bitchy character with almost no redeeming qualities but as we learn more about her we find out that she's been swept away with the crowd. These girls thrive on thinking, feeling and acting like they're better than anyone else. I did not like her at all in the beginning and when the question was asked, whether she deserved to die because she was a bad person, I thought that no, she did not. Still, Sam dying doesn't take away from the fact that she wasn't a nice person. I didn't like that she let popularity get to her head in the worst way possible, that she saw bad things being done to others and did nothing to stop them. Instead she joined them.
The start of this book really dragged and here was a point in the beginning of the book when I was waiting for the accident because I was certain that the story would pick up. Once Sam realised that this was how her life ended, and that she had a chance to at least help others and change the person she was known as, the flow got a lot better.
"Here's another thing to remember: hope keeps you alive. Even when you're dead, it's the only thing that keeps you alive."
I did find myself wondering if the occasional nice things she did in her week of reliving her death made a difference. If my some weird twist of fate, those people would remember it. By the end, it was almost like Sam was on repeat. She knew everything she wanted to do because whether she liked it or not…this was her last day. I think she grew as a person and there was some major character development on her part. Her friends though…I really hope that her death at least knocked some sense into their brains.
When the book ended I was hoping that through some miracle maybe it turned out that Sam didn't die. That she had redeemed herself enough for the universe to give her a second chance. The thing is though, she got seven chances to make things right. And while that ultimately didn't change her fate, hopefully it helped others see that maybe putting others down so that you can raise yourself up isn't the way to go through life.
Read: 25 March 2017
Rating: ★★★.5
Publication Date: 25 October 2010
Publisher: HarperCollins
Link to Author's Goodreads Page: Lauren Oliver
Goodreads | Twitter | Instagram | Wattpad