Goodreads Synopsis included.
1 April
Alone in Paris by Ashley Earley
Breathe, Taylor.
Taylor Clay's family isn't exactly perfect. They may look the part with the nice, big house and her dad's fancy job, but that's what's tearing them apart. That, and her dad's sudden recurring drinking problem.
Though her family is close to falling apart, she never wished for something like this to happen. She never wished for her father to drive off a bridge. Especially not while they were on vacation; especially not when her and her mom were in the car with him at the time.
Breathe.
She's devastated after the fact. And it isn't helping that the papers are gossiping about how the pristine lawyer could have driven off the bridge on purpose. And just when she thinks nothing could possibly make things worse, she realizes she's left alone with no relatives to care for her.
So she's alone. Her parents are dead. And she's stuck in the country her family was visiting for their vacation. She's alone in Paris.
Just breathe.
Then Nathan walks into the picture. Funny, snarky, persistent, and sometimes, just flat out rude, he annoys Taylor to no end. He won't leave her alone, but Taylor doesn't know whether or not she should push him away.
***
4 April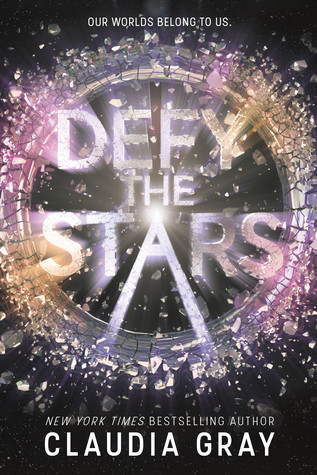 Defy the Stars by Claudia Gray
Noemi Vidal is a teen soldier from the planet Genesis, once a colony of Earth that's now at war for its independence. The humans of Genesis have fought Earth's robotic "mech" armies for decades with no end in sight.
After a surprise attack, Noemi finds herself stranded in space on an abandoned ship where she meets Abel, the most sophisticated mech prototype ever made. One who should be her enemy. But Abel's programming forces him to obey Noemi as his commander, which means he has to help her save Genesis–even though her plan to win the war will kill him.
Together they embark on a daring voyage through the galaxy. Before long, Noemi begins to realize Abel may be more than a machine, and, for his part, Abel's devotion to Noemi is no longer just a matter of programming.
---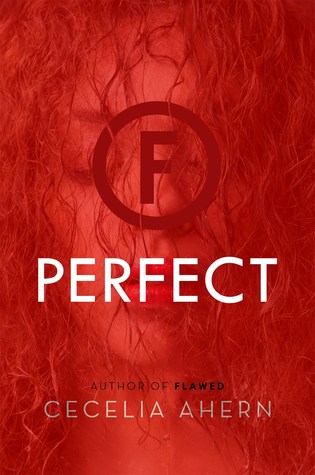 Perfect (Flawed, #2) by Cecelia Ahern
Celestine North lives in a society that demands perfection. After she was branded Flawed by a morality court, Celestine's life has completely fractured–all her freedoms gone.
Since Judge Crevan has declared her the number one threat to the public, she has been a ghost, on the run with Carrick–the only person she can trust.
But Celestine has a secret–one that could bring the entire Flawed system crumbling to the ground. A secret that has already caused countless people to go missing.
Judge Crevan is gaining the upper hand, and time is running out for Celestine. With tensions building, Celestine must make a choice: save just herself or to risk her life to save all Flawed people.
And, most important of all, can she prove that to be human in itself is to be Flawed?
***
6 April
Thrawn by Timothy Zahn
In this definitive novel, readers will follow Thrawn's rise to power—uncovering the events that created one of the most iconic villains in Star Wars history.
>>>>>>><<<<<<<<
>>>>>>><<<<<<<<
***
11 April
Alex and Eliza: A Love Story by Melissa de la Cruz
From the #1 New York Times bestselling author of The Witches of East End and The Descendants comes the love story of young Alexander Hamilton and Eliza Schuyler.
1777. Albany, New York.
As battle cries of the American Revolution echo in the distance, servants flutter about preparing for one of New York society's biggest events: the Schuylers' grand ball. Descended from two of the oldest and most distinguished bloodlines in New York, the Schuylers are proud to be one of their fledgling country's founding families, and even prouder still of their three daughters—Angelica, with her razor-sharp wit; Peggy, with her dazzling looks; and Eliza, whose beauty and charm rival that of both her sisters, though she'd rather be aiding the colonists' cause than dressing up for some silly ball.
Still, she can barely contain her excitement when she hears of the arrival of one Alexander Hamilton, a mysterious, rakish young colonel and General George Washington's right-hand man. Though Alex has arrived as the bearer of bad news for the Schuylers, he can't believe his luck—as an orphan, and a bastard one at that—to be in such esteemed company. And when Alex and Eliza meet that fateful night, so begins an epic love story that would forever change the course of American history.
In the pages of Alex and Eliza, #1 New York Times bestselling author Melissa de la Cruz brings to life the romance of young Alexander Hamilton and Elizabeth Schuyler.
---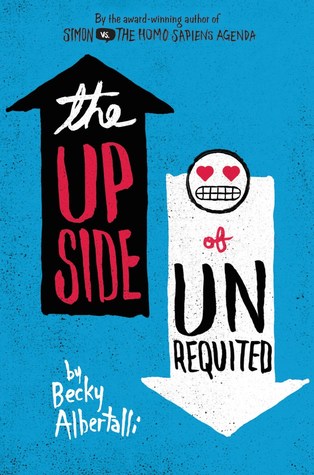 The Upside of Unrequited by Becky Albertalli
Seventeen-year-old Molly Peskin-Suso knows all about unrequited love. No matter how many times her twin sister, Cassie, tells her to woman up, Molly can't stomach the idea of rejection. So she's careful. Fat girls always have to be careful.
Then a cute new girl enters Cassie's orbit, and for the first time ever, Molly's cynical twin is a lovesick mess. Meanwhile, Molly's totally not dying of loneliness—except for the part where she is. Luckily, Cassie's new girlfriend comes with a cute hipster-boy sidekick. If Molly can win him over, she'll get her first kiss and she'll get her twin back.
There's only one problem: Molly's coworker, Reid. He's a chubby Tolkien superfan with a season pass to the Ren Faire, and there's absolutely no way Molly could fall for him.
Right?
---
A girl realizes her life is being written for her in this unique, smart love story that is Stranger Than Fiction for fans of Stephanie Perkins.
Annabelle's life has always been Perfect with a capital P. Then bestselling young adult author Lucy Keating announces that she's writing a new novel—and Annabelle is the heroine.
It turns out, Annabelle is a character that Lucy Keating created. And Lucy has a plan for her.
But Annabelle doesn't want to live a life where everything she does is already plotted out. Will she find a way to write her own story—or will Lucy Keating have the last word?
The real Lucy Keating's delightful contemporary romance blurs the line between reality and fiction, and is the perfect follow-up for readers who loved her debut Dreamology, which SLJ called, "a sweet, quirky romance with appealing characters."
---
Dig If You Will the Picture: Funk, Sex, God and Genius in the Music of Prince by Ben Greenman
A unique and kaleidoscopic look into the life, legacy, and electricity of the pop legend Prince and his wideranging impact on our culture
Ben Greenman, New York Times bestselling author, contributing writer to the New Yorker, and owner of thousands of recordings of Prince and Prince-related songs, knows intimately that there has never been a rock star as vibrant, mercurial, willfully contrary, experimental, or prolific as Prince. Uniting a diverse audience while remaining singularly himself, Prince was a tireless artist, a musical virtuoso and chameleon, and a pop-culture prophet who shattered traditional ideas of race and gender, rewrote the rules of identity, and redefined the role of sex in pop music.
A polymath in his own right who collaborated with George Clinton and Questlove on their celebrated memoirs, Greenman has been listening to and writing about Prince since the mid-eighties. Here, with the passion of an obsessive fan and the skills of a critic, journalist, and novelist, he mines his encyclopedic knowledge of Prince's music to tell both his story and the story of the paradigm-shifting ideas that he communicated to his millions of fans around the world. Greenman's take on Prince is the autobiography of a generation and its ideas. Asking a series of questions–not only "Who was Prince?" but "Who wasn't he?" and "Who are we?"–Dig if You Will the Picture is a fitting tribute to an extraordinary talent.
————————
Ben Greenman is a New York Times bestselling author and New Yorker contributor who has written both fiction and nonfiction. His novels and short-story collections include The Slippage and Superbad, he was Questlove's collaborator on Mo' Meta Blues and Something to Food About, and he has written memoirs with George Clinton and Brian Wilson. His writing has appeared in The New Yorker, The New York Times, The Washington Post, Mother Jones, McSweeney's, Rolling Stone, and elsewhere.
***
18 April
The Adjustment by Suzanne Young
How do you go back to a life you can't remember? Find out in this follow up to the New York Times bestselling The Program and The Treatment.
Tatum Masterson never went through The Program. She never had her memory stripped, never had to fight to remain herself. But when Weston, her longtime boyfriend and love of her life, was taken by handlers, she hoped he'd remember her somehow—that their love would be strong enough.
It wasn't.
Like all returners, Weston came back a blank canvas. The years he and Tatum spent together were forgotten, as well as the week when he mysteriously disappeared before The Program came for him.
Regardless of his memory loss, Tatum fights to get Weston to remember her. And just as they start to build a new love, they hear about the Adjustment—a new therapy that implants memories from a donor. Despite the risks, Tatum and Weston agree to go through the process. Tatum donates her memories from their time together.
But the problem with memories is that they are all a matter of perspective. So although Weston can now remember dating Tatum, his emotions don't match the experiences. And this discrepancy is slowly starting to unravel him, worse than anything The Program could have done.
And as the truth of their life together becomes clear, Tatum will have to decide if she loves Weston enough to let him go, or to continue to live the lie they'd build together.
Prepare for your Adjustment.
***
25 April
Once Upon a Time: Regina Rising by Wendy Toliver
Sixteen-year-old Regina is very different from the Regina known by fans of ABC's "Once Upon a Time." She seeks romance, adventure, and approval. Of course, getting approval from a mother like Cora is next to impossible. For Regina, friendships have always been a rare commodity. Could it be that Regina has finally found a true friend? Or is it too good to be true? As Regina struggles to find her own identity and create her own destiny, she discovers that her fate might just be to become everything she despises.
Goodreads Listopia for upcoming April 2017 Releases:
Goodreads | Twitter | Instagram | Wattpad