Goodreads Synopsis included.
7 March
The Walking Dead Vol.27: The Whisperer War by Robert Kirkman
THE WHISPERER WAR PART 1
The time has come. The forces are aligning. The war has begun! Has Rick brought about the demise of everything he's built? Or will he triumph once again? Know this… there will be a cost.
Collects THE WALKING DEAD #157-162.
>>>>><<<<<<<
---
Life gets pretty boring when you beat the snot out of every villain with just one punch.
Nothing about Saitama passes the eyeball test when it comes to superheroes, from his lifeless expression to his bald head to his unimpressive physique. However, this average-looking guy has a not-so-average problem—he just can't seem to find an opponent strong enough to take on!
---
Traitor to the Throne (Rebel of the Sands, #2) by Alwyn Hamilton
The sizzling, un-put-downable sequel to the bestselling Rebel of the Sands!
Mere months ago, gunslinger Amani al'Hiza fled her dead-end hometown on the back of a mythical horse with the mysterious foreigner Jin, seeking only her own freedom. Now she's fighting to liberate the entire desert nation of Miraji from a bloodthirsty sultan who slew his own father to capture the throne.
When Amani finds herself thrust into the epicenter of the regime—the Sultan's palace—she's determined to bring the tyrant down. Desperate to uncover the Sultan's secrets by spying on his court, she tries to forget that Jin disappeared just as she was getting closest to him, and that she's a prisoner of the enemy. But the longer she remains, the more she questions whether the Sultan is really the villain she's been told he is, and who's the real traitor to her sun-bleached, magic-filled homeland.
Forget everything you thought you knew about Miraji, about the rebellion, about djinni and Jin and the Blue-Eyed Bandit. In Traitor to the Throne, the only certainty is that everything will change.
---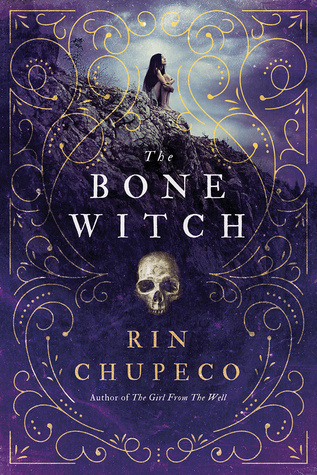 The Bone Witch (The Bone Witch, #1) by Rin Chupeco
When Tea accidentally resurrects her brother from the dead, she learns she is different from the other witches in her family. Her gift for necromancy means that she's a bone witch, a title that makes her feared and ostracized by her community. But Tea finds solace and guidance with an older, wiser bone witch, who takes Tea and her brother to another land for training.
In her new home, Tea puts all her energy into becoming an asha — one who can wield elemental magic. But dark forces are approaching quickly, and in the face of danger, Tea will have to overcome her obstacles…and make a powerful choice.
Memoirs of a Geisha meets The Name of the Wind in this brilliant new fantasy series by Rin Chupeco!
---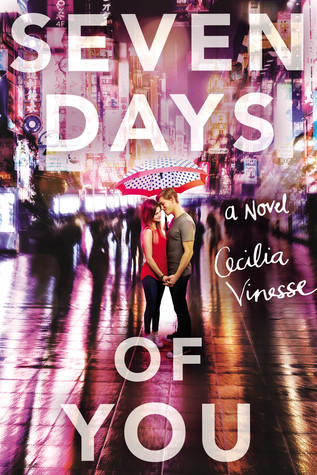 Seven Days of You by Cecilia Vinesse
Sophia has seven days left in Tokyo before she moves back to the States. Seven days to say good-bye to the electric city, her wild best friend, and the boy she's harbored a semi-secret crush on for years. Seven perfect days…until Jamie Foster-Collins moves back to Japan and ruins everything.
Jamie and Sophia have a history of heartbreak, and the last thing Sophia wants is for him to steal her leaving thunder with his stupid arriving thunder. Yet as the week counts down, the relationships she thought were stable begin to explode around her. And Jamie is the one who helps her pick up the pieces. Sophia is forced to admit she may have misjudged Jamie, but can their seven short days of Tokyo adventures end in anything but good-bye?
***
14 March
Hogwarts Library by J.K. Rowling
Three classic volumes from J.K. Rowling's Wizarding World, now in a beautifully redesigned boxed set!
Inside readers will find books treasured by users of the great library at Hogwarts School for Witchcraft and Wizardry: Fantastic Beasts and Where to Find Them, Newt Scamander's master work on magical creatures; Quidditch Through the Ages, a comprehensive history of the game and its rules; and The Tales of Beedle the Bard, with an introduction and illustrations by J.K. Rowling and extensive commentary by Albus Dumbledore. This boxed set is an essential addition to the collection of any Harry Potter fan, and a beautiful gift to cherish.
Contributor:
J.K. Rowling is the author of the bestselling Harry Potter series of seven books, published between 1997 and 2007, which have sold over 450 million copies worldwide, are distributed in more than 200 territories and translated into 79 languages, and have been turned into eight blockbuster films by Warner Bros. She has written three companion volumes to the series in aid of charity: Quidditch Through the Ages and Fantastic Beasts and Where to Find Them in aid of Comic Relief; and The Tales of Beedle the Bard in aid of her children's charity Lumos. Her website and e-publisher Pottermore is the digital hub of the Wizarding World. She has recently collaborated with writer Jack Thorne and director John Tiffany on the stage play Harry Potter and the Cursed Child Parts Parts One and Two, which is now running at The Palace Theatre in London's West End. J.K. Rowling is also the author of a novel for adult readers, The Casual Vacancy, and, under the pseudonym Robert Galbraith, is the author of three crime novels featuring private detective Cormoran Strike, which are to be adapted for BBC television. Fantastic Beasts and Where to Find Them marks J.K. Rowling's screenwriting debut
---
The End of Oz by Danielle Paige
In this high-octane fourth book in the New York Times bestselling Dorothy Must Die series, Amy Gumm must do everything in her power to save Kansas and make Oz a free land once more.
At the end of Yellow Brick War, Amy had finally defeated Dorothy. Just when she and the rest of the surviving members of the Revolutionary Order of the Wicked thought it was safe to start rebuilding the damaged land of Oz, they realized they've been betrayed—by one of their own. And Dorothy might not have been so easily defeated after all.
In the fourth installment of the New York Times bestselling Dorothy Must Die series, the magical Road of Yellow Brick has come to the rescue, and whisked Amy away—but to where? Does the Road itself know where she needs to go to find the help that she needs?
Welcome to the other side of the rainbow. Here there's danger around every corner, and magic shoes won't be able to save you.
***
28 March
How to Be a Bawse: A Guide to Conquering Life by Lilly Singh
The official debut book from YouTube phenomenon Lilly Singh. Available for pre-order now.
From actress, comedian and YouTube sensation Lilly Singh (aka Superwoman) comes the definitive guide to being a BAWSE – a person who exudes confidence, reaches goals, gets hurt efficiently, and smiles genuinely because they've fought through it all and made it out the other side.
Told in her hilarious, bold voice that's inspired over 9 million fans, and using stories from her own life to illustrate her message, Lilly proves that there are no shortcuts to success.
WARNING: This book does NOT include hopeful thoughts, lucky charms, and cute quotes. That's because success, happiness and everything else you want in life needs to be fought for – not wished for. In Lilly's world, there are no escalators. Only stairs.
---
We're All Wonders by R.J. Palacio
The unforgettable bestseller Wonder has inspired a nationwide movement to Choose Kind. Now parents and educators can introduce the importance of choosing kind to younger readers with this gorgeous picture book, featuring Auggie and Daisy on an original adventure, written and illustrated by R. J. Palacio.
 
Over 5 million people have fallen in love with Wonder and have joined the movement to Choose Kind. Now younger readers can meet Auggie Pullman, an ordinary boy with an extraordinary face, and his beloved dog, Daisy.
 
Countless fans have asked R. J. Palacio to write a book for younger readers. With We're All Wonders, she makes her picture-book debut as both author and artist, with a spare, powerful text and striking, richly imagined illustrations. Palacio shows readers what it's like to live in Auggie's world—a world in which he feels like any other kid, but he's not always seen that way.
 
We're All Wonders may be Auggie's story, but it taps into every child's longing to belong, and to be seen for who they truly are. It's the perfect way for families and educators to talk about empathy and kindness with young children.
Praise for Wonder:
A #1 New York Times Bestseller
A USA Today Top 100 Bestseller
An Indie Bestseller
A Time Magazine 100 Best Young Adult Books of All Time Selection
A Washington Post Best Kids' Book
A Parents Magazine Top 10 Book of the Year
A New York Times Book Review Notable Book
An NPR Outstanding Backseat Book Club Pick
An Entertainment Weekly 10 Great Kids' Books Selection
A Publishers Weekly Best Book of the Year
A School Library Journal Best Book of the Year
A Kirkus Reviews Best Book of the Year
A Booklist Editors' Choice
An E. B. White Read Aloud Award Winner
An ALA Notable Book
A Bank Street Best Book of the Year
An IRA-CBC Teachers' Choice
A New York Public Library 100 Titles for Reading and Sharing Selection
A Christopher Award Winner
"A beautiful, funny and sometimes sob-making story of quiet transformation." —The Wall Street Journal
"A crackling page-turner filled with characters you can't help but root for." —Entertainment Weekly
"Rich and memorable." —The New York Times Book Review
"Wonder is the best kids' book of the year." —Slate.com
"A glorious exploration of the nature of friendship, tenacity, fear, and most importantly, kindness." —The Huffington Post
"Endearing, enduring Auggie and his family and friends will find a place in the hearts of readers and prompt reflection on how we treat others." —The Washington Post
---
Strange the Dreamer (Strange the Dreamer, #1) by Laini Taylor
A new epic fantasy by National Book Award finalist and New York Times bestselling author Laini Taylor of the Daughter of Smoke & Bone trilogy.
The dream chooses the dreamer, not the other way around— and Lazlo Strange, war orphan and junior librarian, has always feared that his dream chose poorly. Since he was five years old he's been obsessed with the mythic lost city of Weep, but it would take someone bolder than he to cross half the world in search of it. Then a stunning opportunity presents itself, in the person of a hero called the Godslayer and a band of legendary warriors, and he has to seize his chance to lose his dream forever.
What happened in Weep two hundred years ago to cut it off from the rest of the world? What exactly did the Godslayer slay that went by the name of god? And what is the mysterious problem he now seeks help in solving?
The answers await in Weep, but so do more mysteries—including the blue-skinned goddess who appears in Lazlo's dreams. How did he dream her before he knew she existed? and if all the gods are dead, why does she seem so real?
In this sweeping and breathtaking new novel by National Book Award finalist Laini Taylor, author of the New York Times bestselling Daughter of Smoke & Bone trilogy, the shadow of the past is as real as the ghosts who haunt the citadel of murdered gods. Fall into a mythical world of dread and wonder, moths and nightmares, love and carnage.
Welcome to Weep.
Goodreads Listopia for upcoming March 2017 releases:
Goodreads | Twitter | Instagram | Wattpad