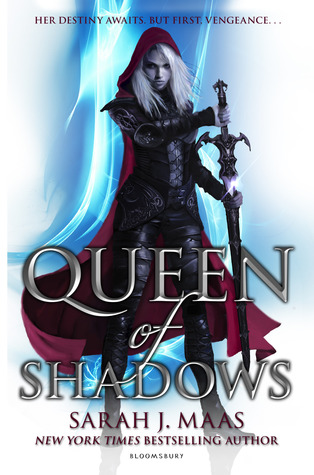 Goodreads Synopsis
Everyone Celaena Sardothien loves has been taken from her. But she's at last returned to the empire—for vengeance, to rescue her once-glorious kingdom, and to confront the shadows of her past . . .
She will fight for her cousin, a warrior prepared to die just to see her again. She will fight for her friend, a young man trapped in an unspeakable prison. And she will fight for her people, enslaved to a brutal king and awaiting their lost queen's triumphant return.
Celaena's epic journey has captured the hearts and imaginations of millions across the globe. This fourth volume will hold readers rapt as Celaena's story builds to a passionate, agonizing crescendo that might just shatter her world.
---
"They were the beginning and the ending; they were eternity."
Queen of Shadows is the fourth instalment of the Throne of Glass series and the story's really shaping up to be something.
Back when I read The Assassin's Blade I fell in love with Celaena Sardothien and I along with many others grew with her into the Queen that she is now; into Aelin Ashryver Galathynius. We've come a long way and this story is only getting better.
The positive: There was a lot of character development in regards to Aelin. She might have started out as a character who seemed to know what was what and was extremely arrogant but she's toned it down a bit. She doesn't asked for help much, so the arrogance factor hasn't really changed but she does- internally- admit when she's confused and doesn't know something.
There was a lot of butt kicking in this book which I greatly enjoyed and I'm glad that even though Aelin returned to Rifthold, her true world wasn't forgotten in the sense that who or whatever she left behind was still a prominent part of Aelin's journey.
The new characters added, old characters re-introduced and random people along the way really added to the plot of this book. Also, I loved Manon in this book. I would've enjoyed the story just as much if I had been reading her POV's alone. We didn't see much of Dorian for obvious reasons but the brief moments we saw into his mind was just…I feel like his battle was the most difficult to fight. That bit with him at the climax made me think of a Phoenix rising up and just…it was a mental sight to behold.
What I love most about this story was and let me be honest here: Rowan. He is my favourite character in this series and I'd re-read Heir of Fire and Queen of Shadows for him alone. Not that Aelin needs him to prove she's a butt kicking queen but his presence alone for me makes the situation, the story, better.
The not so positive: Everyone's madly in love with Chaol, and while I was too in Crown of Midnight, I wasn't a fan of him in this book. He was rude and almost impossible to bear at certain points. I was very glad that we didn't see a lot from his POV. Once he got an idea in his head it was difficult to change his mind and while Aelin could be a bi***, she was at least open about it. He acted like this perfect warrior and then twisted the knife in her back even deeper. Then he's the first to talk about people disregarding others' feelings.
I went through this book pretty quickly, the last one being Throne of Glass. The writing and characters are getting a lot better and I'm eager to continue and finish this series even though the final book was pushed back by a year. Once again, SJM didn't disappoint. I anxiously wait till I can get my claws on Empire of Storms so I can finally, for once in my life, be up to date with this series.
Read: 31 January 2017
Rating: ★★★.5
Publication Date: 1 September 2015
Publisher: Bloomsbury UK
Link to Author's Goodreads Page: Sarah J. Maas
Goodreads | Twitter | Instagram | Wattpad