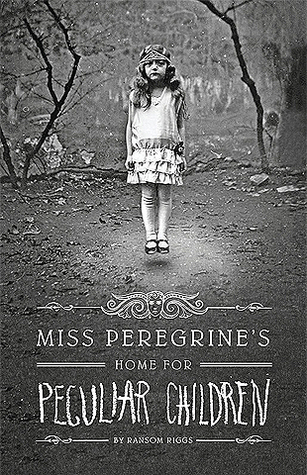 Goodreads Synopsis
A mysterious island. An abandoned orphanage. A strange collection of curious photographs.
A horrific family tragedy sets sixteen-year-old Jacob journeying to a remote island off the coast of Wales, where he discovers the crumbling ruins of Miss Peregrine's Home for Peculiar Children. As Jacob explores its abandoned bedrooms and hallways, it becomes clear that the children were more than just peculiar. They may have been dangerous. They may have been quarantined on a deserted island for good reason. And somehow—impossible though it seems—they may still be alive.
A spine-tingling fantasy illustrated with haunting vintage photography, Miss Peregrine's Home for Peculiar Children will delight adults, teens, and anyone who relishes an adventure in the shadows.
---
Miss Peregrine's Home for Peculiar Children tells the story of what is known as Peculiars. They're people who have special gifts- Fire, Invisibility, Prophetic Dreams etc. They're viewed as strange and alienated because they're different but everywhere there are places where they can be safe, like havens where they can be who and what they really are with no prejudice.
I was a bit afraid to read this book mainly because of the pictures. They're of the eerily creepy kind that makes you want to look away but at the same time you can't. The idea for this book was a great one and I love the way Ransom Riggs executed it. I couldn't read it at night but I did manage to finish this book in a day.
The character of Jacob was a slightly strange one in that it was obvious that he was somehow different. You can't put your finger on it but he was a bit of a loner and didn't seem to be the kind of person you'd want to go up to and instantly become friends. I loved how curious he was and that he didn't back down even though he was slightly terrified of what was going on. He wanted answers and he was willing to go to the ends of the world to get them. He'd been hearing stories from his grandfather since he was a young boy and his father keeps telling him they're not true, and that the grandfather has an overactive imagine. Things start changing when those seemingly scary 'fairy tales' turn out to be true.
Along the way Jacob meets these children who he later finds out are peculiars with Miss Peregrine guarding and guiding them. She seemed to have sinister feel to her but I think that was just a defence mechanism for outsiders. She soon becomes more welcoming when she finds out who Jacob is and tries to help him as best she can.
I loved the concept of the changeover- of how everything is reset when the day is over. It probably does get boring living the same day over and over again but seeing Miss Peregrine reset the clock was a magical experience for me. I also liked that they spoke of other places like Miss Peregrine's, of how these children weren't the only ones around and there were many more.
What made me read the book was the trailer for the movie. I have yet to watch it and I know there are some changes but it looked really good so I wanted to see what the book was like since I'd heard so many good things about it. Even though this book is categorised as a middle grade, it reads a bit like a YA novel. Although there are moments when it's obvious that this was a book meant for younger readers. I'm very excited and can't wait to read Hollow City.
Read: 10 July 2016
Rating: ★★★★
Publication Date: 7 June 2011
Publisher: Quirk
Link to Author's Goodreads Page: Ransom Riggs
Goodreads | Twitter | Instagram | Wattpad