Let's hope I actually manage to cross off everything on the list this time. *Fingers Crossed*
Tales from the Shadowhunter Academy by Cassandra Clare, Sarah Rees Brennan, Maureen Johnson, Robin Wasserman
Simon Lewis has been a human and a vampire, and now he is becoming a Shadowhunter. But the events of City of Heavenly Fire left him stripped of his memories, and Simon isn't sure who he is anymore. He knows he was friends with Clary, and that he convinced the total goddess Isabelle Lightwood to go out with him…but he doesn't know how. And when Clary and Isabelle look at him, expecting him to be a man he doesn't remember…Simon can't take it.
So when the Shadowhunter Academy reopens, Simon throws himself into this new world of demon-hunting, determined to find himself again. His new self. Whomever this new Simon might be.
But the Academy is a Shadowhunter institution, which means it has some problems. Like the fact that non-Shadowhunter students have to live in the basement. And that differences—like being a former vampire—are greatly looked down upon. At least Simon is trained in weaponry—even if it's only from hours of playing D&D.
Join Simon on his journey to become a Shadowhunter, and learn about the Academy's illustrious history along the way, through guest lecturers such as Jace Herondale, Tessa Gray, and Magnus Bane. These ten short stories give an epilogue to the Mortal Instruments series and provide glimpses of what's in store in the Dark Artifices.
---
Lady Midnight by Cassandra Clare
In a kingdom by the sea…
In a secret world where half-angel warriors are sworn to fight demons, parabatai is a sacred word.
A parabatai is your partner in battle. A parabatai is your best friend. Parabatai can be everything to each other—but they can never fall in love.
Emma Carstairs is a warrior, a Shadowhunter, and the best in her generation. She lives for battle. Shoulder to shoulder with her parabatai, Julian Blackthorn, she patrols the streets of Los Angeles, where vampires party on the Sunset Strip, and faeries—the most powerful of supernatural creatures—teeter on the edge of open war with Shadowhunters. When the bodies of humans and faeries turn up murdered in the same way Emma's parents were when she was a child, an uneasy alliance is formed. This is Emma's chance for revenge—and Julian's chance to get back his brother Mark, who is being held prisoner by the faerie Courts. All Emma, Mark, and Julian have to do is solve the murders within two weeks…and before the murderer targets them.
Their search takes Emma from sea caves full of sorcery to a dark lottery where death is dispensed. And each clue she unravels uncovers more secrets. What has Julian been hiding from her all these years? Why does Shadowhunter Law forbid parabatai to fall in love? Who really killed her parents—and can she bear to know the truth?
The darkly magical world of Shadowhunters has captured the imaginations of millions of readers across the globe. Join the adventure in Lady Midnight, the long-awaited first volume of a new trilogy from Cassandra Clare.
---
A Court of Mist and Fury by Sarah J. Maas
Feyre survived Amarantha's clutches to return to the Spring Court—but at a steep cost. Though she now has the powers of the High Fae, her heart remains human, and it can't forget the terrible deeds she performed to save Tamlin's people.
Nor has Feyre forgotten her bargain with Rhysand, High Lord of the feared Night Court. As Feyre navigates its dark web of politics, passion, and dazzling power, a greater evil looms—and she might be key to stopping it. But only if she can harness her harrowing gifts, heal her fractured soul, and decide how she wishes to shape her future—and the future of a world cleaved in two.
With more than a million copies sold of her beloved Throne of Glass series, Sarah J. Maas's masterful storytelling brings this second book in her seductive and action-packed series to new heights.
---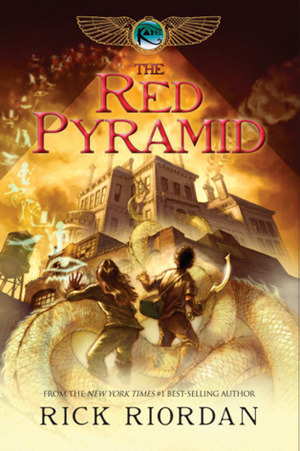 The Red Pyramid by Rick Riordan
Since their mother's death, Carter and Sadie have become near strangers. While Sadie has lived with her grandparents in London, her brother has traveled the world with their father, the brilliant Egyptologist, Dr. Julius Kane.
One night, Dr. Kane brings the siblings together for a "research experiment" at the British Museum, where he hopes to set things right for his family. Instead, he unleashes the Egyptian god Set, who banishes him to oblivion and forces the children to flee for their lives.
Soon, Sadie and Carter discover that the gods of Egypt are waking, and the worst of them —Set— has his sights on the Kanes. To stop him, the siblings embark on a dangerous journey across the globe – a quest that brings them ever closer to the truth about their family and their links to a secret order that has existed since the time of the pharaohs.
---
Percy Jackson and the Greek Heroes by Rick Riordan
Who cut off Medusa's head? Who was raised by a she-bear? Who tamed Pegasus? It takes a demigod to know, and Percy Jackson can fill you in on the all the daring deeds of Perseus, Atalanta, Bellerophon, and the rest of the major Greek heroes. Told in the funny, irreverent style readers have come to expect from Percy, ( I've had some bad experiences in my time, but the heroes I'm going to tell you about were the original old school hard luck cases. They boldly screwed up where no one had screwed up before. . .) and enhanced with vibrant artwork by Caldecott Honoree John Rocco, this story collection will become the new must-have classic for Rick Riordan's legions of devoted fans–and for anyone who needs a hero. So get your flaming spear. Put on your lion skin cape. Polish your shield and make sure you've got arrows in your quiver. We're going back about four thousand years to decapitate monsters, save some kingdoms, shoot a few gods in the butt, raid the Underworld, and steal loot from evil people. Then, for dessert, we'll die painful tragic deaths. Ready? Sweet. Let's do this.
---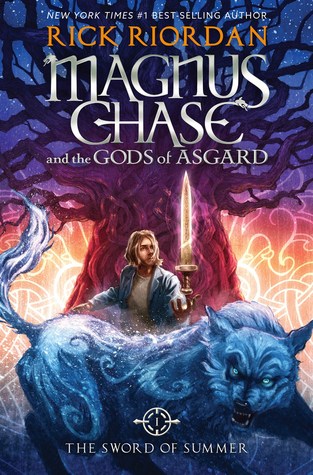 The Sword of Summer by Rick Riordan
Magnus Chase has always been a troubled kid. Since his mother's mysterious death, he's lived alone on the streets of Boston, surviving by his wits, keeping one step ahead of the police and the truant officers.
One day, he's tracked down by a man he's never met—a man his mother claimed was dangerous. The man tells him an impossible secret: Magnus is the son of a Norse god.
The Viking myths are true. The gods of Asgard are preparing for war. Trolls, giants and worse monsters are stirring for doomsday. To prevent Ragnarok, Magnus must search the Nine Worlds for a weapon that has been lost for thousands of years.
When an attack by fire giants forces him to choose between his own safety and the lives of hundreds of innocents, Magnus makes a fatal decision.
Sometimes, the only way to start a new life is to die . . .
---
The Hidden Oracle by Rick Riordan
How do you punish an immortal?
By making him human.
After angering his father Zeus, the god Apollo is cast down from Olympus. Weak and disorientated, he lands in New York City as a regular teenage boy. Now, without his godly powers, the four-thousand-year-old deity must learn to survive in the modern world until he can somehow find a way to regain Zeus's favour.
But Apollo has many enemies—gods, monsters and mortals who would love to see the former Olympian permanently destroyed. Apollo needs help, and he can think of only one place to go… an enclave of modern demigods known as Camp Half-Blood.
---
The Sky is Everywhere by Jandy Nelson
Seventeen-year-old Lennie Walker, bookworm and band geek, plays second clarinet and spends her time tucked safely and happily in the shadow of her fiery older sister, Bailey. But when Bailey dies abruptly, Lennie is catapulted to center stage of her own life – and, despite her nonexistent history with boys, suddenly finds herself struggling to balance two. Toby was Bailey's boyfriend; his grief mirrors Lennie's own. Joe is the new boy in town, a transplant from Paris whose nearly magical grin is matched only by his musical talent. For Lennie, they're the sun and the moon; one boy takes her out of her sorrow, the other comforts her in it. But just like their celestial counterparts, they can't collide without the whole wide world exploding.
This remarkable debut is perfect for fans of Sarah Dessen, Deb Caletti, and Francesca Lia Block. Just as much a celebration of love as it is a portrait of loss, Lennie's struggle to sort her own melody out of the noise around her is always honest, often hilarious, and ultimately unforgettable.
---
My Sister's Keeper by Jodi Picoult
Anna is not sick, but she might as well be. By age thirteen, she has undergone countless surgeries, transfusions, and shots so that her older sister, Kate, can somehow fight the leukemia that has plagued her since childhood. The product of preimplantation genetic diagnosis, Anna was conceived as a bone marrow match for Kate — a life and a role that she has never challenged… until now. Like most teenagers, Anna is beginning to question who she truly is. But unlike most teenagers, she has always been defined in terms of her sister—and so Anna makes a decision that for most would be unthinkable, a decision that will tear her family apart and have perhaps fatal consequences for the sister she loves.
A provocative novel that raises some important ethical issues, My Sister's Keeper is the story of one family's struggle for survival at all human costs and a stunning parable for all time.
---
Outlander by Diana Gabaldon
The year is 1945. Claire Randall, a former combat nurse, is just back from the war and reunited with her husband on a second honeymoon when she walks through a standing stone in one of the ancient circles that dot the British Isles. Suddenly she is a Sassenach—an "outlander"—in a Scotland torn by war and raiding border clans in the year of Our Lord…1743.
Hurled back in time by forces she cannot understand, Claire is catapulted into the intrigues of lairds and spies that may threaten her life, and shatter her heart. For here James Fraser, a gallant young Scots warrior, shows her a love so absolute that Claire becomes a woman torn between fidelity and desire—and between two vastly different men in two irreconcilable lives.
---
Angels & Demons by Dan Brown
From the #1 New York Times bestselling author of The Da Vinci Code comes the book that started it all—the first explosive adventure for world-renowned symbologist Robert Langdon.
World-renowned Harvard symbologist Robert Langdon is summoned to a Swiss research facility to analyze a cryptic symbol seared into the chest of a murdered physicist. What he discovers is unimaginable: a deadly vendetta against the Catholic Church by a centuriesold underground organization—the Illuminati. Desperate to save the Vatican from a powerful time bomb, Langdon joins forces in Rome with the beautiful and mysterious scientist Vittoria Vetra. Together they embark on a frantic hunt through sealed crypts, dangerous catacombs, deserted cathedrals, and the most secretive vault on earth…the longforgotten Illuminati lair. Angels & Demons is soon to be a major motion picture from Sony Pictures—starring Tom Hanks, Ewan McGregor, and Ayelet Zurer, and directed by Ron Howard.
***
There are quite a few more but these are the ones that I've been looking forward to the most. Some I don't even own yet but I'll cross that bridge when I get there.
Good luck with the reading ya'll!
Caron  xx
Goodreads | Twitter | Instagram | Wattpad