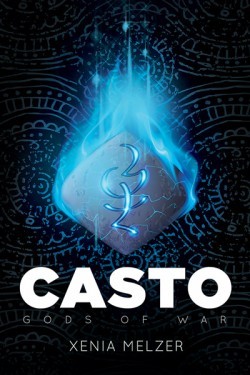 Goodreads Synopsis
All is fair in love and war. Renaldo has lived happily by that proverb his entire life. But he has finally met his match, and he's about to discover how unfair love and war can be.
When demigod and warlord Lord Renaldo takes a beautiful stranger captive during an ambush, he is delighted to have found a distraction that will keep him entertained during the upcoming siege. Little does he know, Casto is keeping more than just one secret from him. Slowly, Renaldo gets sucked into a turbulent roller-coaster relationship with his mysterious prisoner, one that begins with hatred and soon spirals into a whirlwind of conflicting emotions. And when it seems that things can get no worse, an old enemy stirs right in the heart of his home.
Determined to keep Casto by his side, Renaldo has to find a balance between the capricious young man and his own destiny as a ruler and god to his people.
---
I received this book from the publisher in exchange for an honest review.
I love mythology and fantasy and historical fiction, this is no secret. Casto takes a bit from everything and makes up one new and amazing story. Reading the synopsis drew me in, but the actual story kept pulling me in closer. This book was so addicting and I was actually sad that it ended.
The feelings that you feel as you read this book is so real and genuine, even the way the characters expressed themselves were so descriptive. The writing style was superb and I literally didn't want to stop. I would've finished this book in one go if it weren't for the fact that I was super tired and my eyes were watering.
Characters: Casto was a very strong character, both physical and in personality. He was stubborn and even though you'd think it'd get annoying because 'why can't you just listen, your life would be so much easier?' I liked that his character didn't change. He stayed the same throughout. In fact, I'd say that he only got stronger and his will was harder to break. Casto was really smart and his instinct was so sharp, he'd know instantly whether to believe a person or not. His attitude towards not caring did make him look arrogant, but that was part of his protective barrier. Why waste time on those undesirables anyway.
Renaldo was a bit of a hothead even with his circumstances but I'd say that his hotheadedness and aggressiveness really helped his characters. He was after all a 'barbarian'. He could be nice if he wanted to…but that's neither here nor there.
Canubis was the more rational of the two but that was to be expected since it was in his birthright to be a ruler.
The Emeris- warriors that will fight alongside the demigods- were great additions as well. All these extra characters would seem like too much at first but I feel that they helped mold the story and made it into what it was.
Likes: I loved the writing style, as I've said. It's really something to be amazed about. Both the plot and the writing played a huge part into making this book a perfect piece in my opinion. Each character, scene and location was perfectly described and made for a wonderful mental image. The pace was pretty fast and enjoyable. I could get through many chapters at a time and wonder how I got that far so quickly.
Overall Thoughts: There were holes in the story but not in a bad way. Those 'holes' were like a preparation for what was still to come. This is why I'm so excited for the next book in the series. I loved the concept of this book- gods having been stripped of their powers and left to find their hearts. I fell in love with Xenia Melzer's writing and I can't wait to see where this story goes.
Read: 9 June 2016
Rating: ★★★★★
Publication Date: 21 June 2016
Publisher: DSP Publications
Link to Author's Goodreads Page: Xenia Melzer