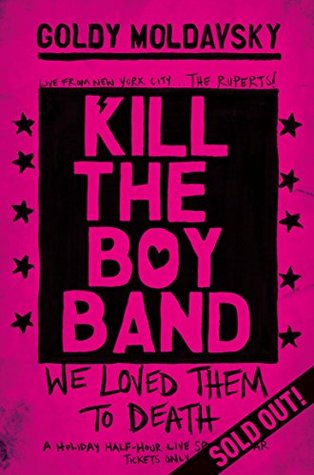 Goodreads Synopsis
From debut author Goldy Moldavsky, the story of four superfan friends whose devotion to their favorite boy band has darkly comical and murderous results.
Okay, so just know from the start that it wasn't supposed to go like this. All we wanted was to get near The Ruperts, our favorite boy band.
We didn't mean to kidnap one of the guys. It kind of, sort of happened that way. But now he's tied up in our hotel room. And the worst part of all, it's Rupert P. All four members of The Ruperts might have the same first name, but they couldn't be more different. And Rupert P. is the biggest flop out of the whole group.
We didn't mean to hold hostage a member of The Ruperts, I swear. At least, I didn't. We are fans. Okay, superfans who spend all of our free time tweeting about the boys and updating our fan tumblrs. But so what, that's what you do when you love a group so much it hurts.
How did it get this far? Who knows. I mean midterms are coming up. I really do not have time to go to hell.
---
I received this book from the publisher on NetGalley in exchange for an honest review.
Kill the Boy Band focuses on four teenage girls who basically bow before a band called The Ruperts- named so because all the members of the group's name is Rupert. They are on that level of dedication that they end up booking a room at the same hotel the boys are staying at. The real story starts once one of the members- even though it's the least liked one- ends up being tied up to a chair in their- the girls'- room.
I requested this book because I am of the belief that more fangirl-related books should be out there. It is kind of a culture and most fangirls are looked upon as being insane. I felt that the moral of this story was to show that not all fangirls are crazy but of course, what does the story end up being about? Yea, how insane and crazy fangirls can actually get. Major contradiction, I'd say. There's a difference between being a dedicated fan and a crazy fan. That difference is important.
I wanted to know how the girls got the guy in their room in the first place, once I found that out everything else was just a facepalm moment for me.
Characters: I didn't find out the main character's name until I was nearly 60% into the book. I thought I had missed something. She kept giving fake names of 80s movie characters? I'm not sure, I don't watch much of the 80s films. Which is what I wanted to point out here. This girl forced her like of the 80s…as in, the situation didn't demand it but she put it in there anyway. It was a bit weird. I as a 21 year old love the 80s, I think it probably would've been awesome but the only thing I really like about it was it's rock music. I don't include it in every single conversation. This girl couldn't speak up for herself and kept justifying her friends' actions. Like the great Janice from Mean Girls once said: "There are two kinds of evil people: People who do evil stuff and people who see evil stuff being done and don't try to stop it." Sloane is the latter. See what I mean? Only finding out a name after all that time.
Erin/Isabel/Apple: These were the other evil people. Seriously, a whole lot of enabling went on in this book. Enablers and encouragers alike and yet neither tried to stop the other. Erin was a…well, she wasn't a nice person. I get that her situation isn't a good one but to make everyone suffer is just…evil. Isabel seemed to be like some sort of latino mafia but listened to everything Erin said. Apple…why her parents made her suffer with that name was just cruel. Oh, my kid was eating an apple when I adopted her, what a perfect name!
The only person I could relate to in this book was the cop at the end. I probably would've walked away too if I was forced to listen to a four hour recount of an insane story.
Likes: Honestly, the only thing I liked about this story was the writing.
Dislikes: I didn't like the story. As I said, the moral of the story was contradictory. What really shocked me was how the MC randomly addressed the reader. It happened once and very late in the book but it was weird and kind of creepy.
Overall Thoughts: I'm not a fan of how the story played out. Throughout most of the book I had a WTF expression on my face. I may be a bit offended as a fangirl by how fangirls were portrayed. I'm not saying there aren't crazy fangirls out there but this was just, no! This book took forever to finish -a problem when you can't stand the MC.
Warning: Mention of underage sex. (Why this wasn't a bigger deal is beyond me)
Read: 22 May 2016
Rating: ★.5
Publication Date: 19 May 2016
Publisher: Macmillan
Link to Author's Goodreads Page: Goldy Moldavsky