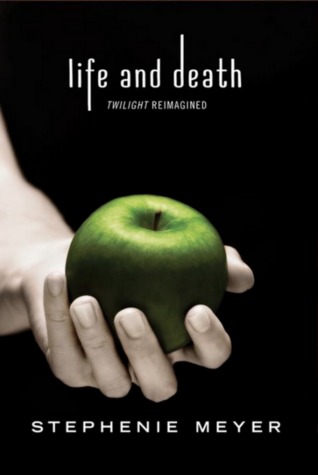 Goodreads Synopsis
Celebrate the tenth anniversary of Twilight! This special double-feature book includes the classic novel, Twilight, and a bold and surprising reimagining, Life and Death, by Stephenie Meyer.
Packaged as an oversize, jacketed hardcover "flip book," this edition features nearly 400 pages of new content as well as exquisite new back cover art. Readers will relish experiencing the deeply romantic and extraordinarily suspenseful love story of Bella and Edward through fresh eyes.
Twilight has enraptured millions of readers since its first publication in 2005 and has become a modern classic, redefining genres within young adult literature and inspiring a phenomenon that has had readers yearning for more. The novel was a #1 New York Times bestseller, a #1USA Today bestseller, a Time magazine Best Young Adult Book of All Time, an NPR Best-Ever Teen Novel, and a New York Times Editor's Choice. The Twilight Saga, which also includes New Moon, Eclipse, Breaking Dawn, The Short Second Life of Bree Tanner: An Eclipse Novella, and The Twilight Saga: The Official Illustrated Guide, has sold nearly 155 million copies worldwide.
---
I was a bit skeptical going into this. It is no secret that my dislike of Twilight had grown over the years. I wanted to read this book because Twilight kickstarted my love of reading and I wanted this to an homage if you will. The ratings for this book were so low it nearly swayed my decision but as I was aware that most of those were simply judgement based on the feelings of Twilight, I decided to give it a go anyway. Not to look down on those that didn't like the series. To each is own.
Life and Death is basically Twilight rewritten but a gender-swapped version of it. Bella's character is now a boy named Beau and Edward's is a girl named Edythe. Certain things were changed because of the role reversal but Charlie and Renee remained as they were. Stephenie Meyer explained about custody procedure back in the late 80s to early 90s.
The story sticks to the basic plot of Twilight and we rarely are diverted. The characters in my opinion are a lot easier to read and 'get along' with in this version. Beau's character was quite adorable. He was still clumsy but it really fit with the character. It took me a chapter or two to get used to the gender-swap. Edythe, I accepted almost immediately. Maybe it was the way she was described and how I saw her through Beau's eyes. She was confident and strong and wouldn't let gender roles dictate her actions. I admired that. (The initial reminder in the first or second chapter about the gender reversal was a bit annoying but I was glad to see that it was just to get the readers used to the change)
There were the familiar scenes but most of them were altered. The cafeteria, the meadow, meeting the Cullens. They were similar in regards to Twilight but because this was one book and not the entire series, parts that we don't find out till later books were added to this. I think it was better this way. The wolves make an appearance but we don't focus on them, which I was grateful for. Also, NO LOVE TRIANGLES! I figured after Jules didn't make an appearance for a long time after the meeting at First Beach in La Push, there would be none of that 'Choose me, I'm better for you' plays. Jacob was my favourite character in the saga, but I felt like I wouldn't have missed Jules if she wasn't in this book.
The ending was changed, obviously. Breaking Dawn's outcome is impossible. I liked this ending though. I felt that it really wrapped everything up. Of course, in the Afterword, Stephenie Meyer tells us that if we wish, we can imagine what happens down the line for the characters. This was a great read for me. I definitely enjoyed it a lot.
Read: 10 November 2015
Rating: ✮✮✮✮
Publication Date: 6 October 2015
Link to Author's Goodreads Page: Stephenie Meyer