1 December
Their Fractured Light by Amie Kaufman
This is the third and final instalment in the Starbound trilogy. This is an extremely popular series and I'm waiting patiently for the day I get to read this. Also, look at that cover! This entire trilogy's covers are all so magestic!
---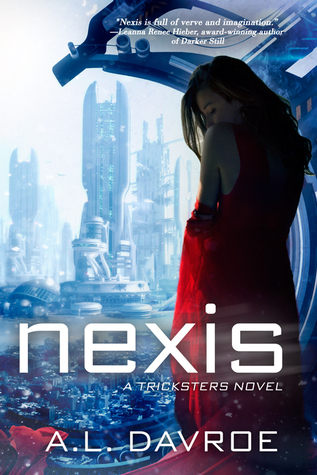 Nexis by A.L. Davroe
This is book 1 in a new series that I cannot wait to get started on. The synopsis sounds amazing and so intriguing. Apparently here, being augmented is the norm.
***
3 December
The Masked City by Genevieve Cogman
This is the sequel to The Invisible Library and although I have not read that book I'm anxious to start. Two things that caught my eye: Doctor Who and Books. We need more books featuring books. And a Doctor Who-like theme is gladly welcome.
***
8 December
The Trouble with Destiny
I'm not a fan of romance, but there'll be a book or two which I wouldn't mind reading. This book screams romance and yet I'm interested in seeing what it's all about. I feel that need for young people in love. I'm only human.
---
Wondering Star by Romina Russell
This is the sequel to Zodiac. I'm so excited. Look at that gorgeous cover! It's so pretty! I want to hold it and hug it and never let go. Zodiac, in my opinion, was all the rage when it was released and I hope this book is building up excitement as we speak.
***
10 December
Creeping Shadow by Caroline Peckham
The synopsis for this book tells you something, but not a lot. I feel like this is a book you need to read in order to get the full picture. I do know that there's Mystery everywhere.
***
15 December
No Port to Land by Ioana Visan
The first of a three part saga, that is described as a Space Opera. Imagine being trapped on a spaceship that has a deadly plague on it.
---
Point of Origin by Ioana Visan
This is the sequel to No Port to Land. These are all short stories and shouldn't take too long to read.
---
Bonds of Steel by Ioana Visan
This is the third part of the Law and Crucible Saga. Also a short story. The space part has me excited to be honest.
***
18 December
The Art of Star Wars: The Force Awakens by Phil Szostak
Left, Right, Center, in your cat's suspicious eyes. Everywhere you look, there's Star Wars. This book just consist's of the art but I wouldn't mind going through this. I've only been a part of the Star Wars fandom for about 2 years now, I think. It was the same time I did a LOTR marathon. Shhh, let's not talk about how I only watched the complete LOTR trilogy in 2013. I'm waiting for this so bad. I'm at the edge of my seat!
---
Star Wars: The Force Awakens Visual Dictionary by DK Publishing
Another book I can't wait for. A visual dictionary! I'd be handing this to my kids and being like: 'Here! Educate yourselves.' After I've read it cover to cover about ten times, of course. …I don't have kids. I like books like these. I've gone through a few descriptive movie guides at the bookstore and I hope this will enlighten me about all the inside workings of 'The Force Awakens'.
***
26 December
The Donor by Stevie Turner
The synopsis tells you a bit what the book is about but I see a hospital bed on the cover and that's why I want to read it. Yes, the cover made me decided to read this book. Also, a book involving rockstars is always a plus.