J.K. Rowling as we all know is the author of the world renowned Harry Potter series (along with its companions). She's also written The Casual Vacancy, a completely different genre than Harry Potter. It's more Mystery and Adult. As well as the Cormoran Strike series under the pseudonym Robert Galbraith. You can find out more at her Goodreads page.
J.K. Rowling has been a part of so many people's lives and so many say that she has made their childhood better and more magical. There were millions of children waiting for their Hogwarts letters to come when they turned eleven so that they could experience the same adventures Harry did.
I didn't read much as a child and I was 3 years old when The Philosopher's Stone was published so obviously I couldn't read back then. I found out about the series when The Chamber of Secrets movie came out. Yes, I know it's pretty late but I'm glad to have jumped on the band wagon no matter how late I was. I remember watching The Philosopher's Stone in the lounge and my dad trying to get me to stop because of witchcraft and the 'scary' scenes. I told him my uncle told me to watch it and that was my introduction to the Harry Potter fandom. The Basilisk in the second movie haunted my nightmares for days but that didn't steer me away.
I never read the books as a kid and I started out with The Deathly Hallows because I remember buying it just after I watched The Order of the Phoenix. I started reading the series last year (2014) and have yet to complete The Half-Blood Prince. This series didn't make up my childhood but it did make a big impact on me in my early and late teenage years.
J.K. Rowling has touched our lives, our hearts and for most, as Harry Potter grew, we grew with him.
Harry Potter's story may have ended but he lives on in us, in his stories and definitely in Pottermore: a site dedicated to fans of the series. New writing from J.K. Rowling herself is added every once in a while that gives us never before seen information about the world and characters.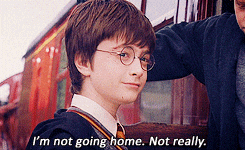 For a bit of a change, J.K. Rowling wrote The Casual Vacancy, a book that's filled with mystery. It's a more Adult centered book and it's been said that one has to step out of the world of Harry Potter and look at the book from a different perspective. Which is a bit difficult to do because we know J.K. Rowling as the author of Harry Potter and nothing else. But when inspiration comes knocking one done not turn away.
The Cormoran Strike series were written under the pseudonym Robert Galbraith and has gotten quite a bit of praise. We always need a bit more murder and mystery in our lives. The third book in the series was published in October of this year.
J.K. Rowling's words will remain with us for a long time and I personally think it's amazing that we had someone like her to add to our childhoods, to our lives and us as people.
J.K. Rowling's website
Robert Galbraith's website
Robert Galbraith's Goodreads page