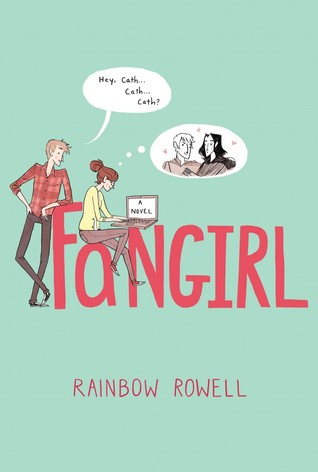 Goodreads Synopsis
From the author of the New York Times bestseller Eleanor & Park.
A coming-of-age tale of fan fiction, family and first love.
Cath is a Simon Snow fan.
Okay, the whole world is a Simon Snow fan…
But for Cath, being a fan is her life—and she's really good at it. She and her twin sister, Wren, ensconced themselves in the Simon Snow series when they were just kids; it's what got them through their mother leaving.
Reading. Rereading. Hanging out in Simon Snow forums, writing Simon Snow fan fiction, dressing up like the characters for every movie premiere.
Cath's sister has mostly grown away from fandom, but Cath can't let go. She doesn't want to.
Now that they're going to college, Wren has told Cath she doesn't want to be roommates. Cath is on her own, completely outside of her comfort zone. She's got a surly roommate with a charming, always-around boyfriend, a fiction-writing professor who thinks fan fiction is the end of the civilized world, a handsome classmate who only wants to talk about words… And she can't stop worrying about her dad, who's loving and fragile and has never really been alone.
For Cath, the question is: Can she do this?
Can she make it without Wren holding her hand? Is she ready to start living her own life? Writing her own stories?
And does she even want to move on if it means leaving Simon Snow behind?
"Touching and utterly real." —  Publisher's Weekly
---
As an actual real life fangirl, let me just say that yes, Rainbow Rowell got it all down perfectly. She slayed the portrayal of a fangirl and I giggled with enthusiasm throughout this entire book. When people tell me I'm insane after I mention the fact that I have a Captain America poster over my bed and I'm well protected, I get told I'm crazy. No sir, you have not yet learnt the beauty that is Fandom.
Cath and Wren are twin sisters who are starting a new journey- college. All their lives they have done everything together but now Wren wants to go off on her own and experience new things.
We get little snippets of a story that's said to be like Harry Potter (i saw the similarities but I feel it's a bit far fetched it say 'it's like Harry Potter'). The Simon Snow stories are a mix of the actual story and the fanfiction (Carry On) Cath -and Wren- wrote. In October of this year we get to experience Carry On in all it's glory. Yay us!
I've never been to a physical campus for college because bad decisions were made but I assume this was a realistic view of what college could be like. There was no parties every night, there were assignments and risks of danger and roommates sometimes hating Cath, sometimes they thought Cath was…tolerable. And it's even better when said roommate brings along an amazing guy in the form of Levi. Yes please.
Off course there's a battle of fanfiction being plagiarism but let's not get into that right now. The amount of realness in this book made me so happy.
This book was perfect. It's a mix between this one and Landline of which I'll pick when I need something to make me feel better.
Read: 5 February 2015
Rating: ✮✮✮✮✮
Publication Date: 1 January 2013
Link to Author's Goodreads Page: Rainbow Rowell