Excuse me. May I have a moment of your time to just show you the cover of Lady Midnight? Yes? Thank you!
Now, let's see. IT IS GORGEOUS!! I hope the hardback and paperback are of the same beauty because money does not fall out of the sky.
This would be the start of Cassandra Clare's THIRD series in the Shadowhunter Universe (The Dark Artifices) and heaven knows what number story this is. TMI, TID, The Bane Chronicles (11 stories) and Tales from Shadowhunter Academy (10 stories). I'm willing to read any and all stories that comes out in this universe.
There's a thing with Cassandra Clare's books:
New book – main characters – action – side characters – earth shattering moment – minor character that will never be seen again – the most amazing ending
See that bold part? Yea, they will definitely be seen again because this is Cassandra friggin' Clare! I love that about her stories. She has all the angles covered. 'But what about- Nope, it's covered.'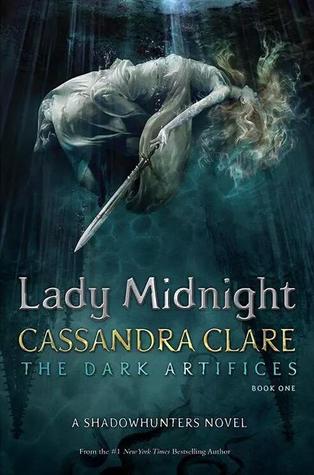 Goodreads Synopsis:
Los Angeles. It's been five years since the events of the Mortal Instruments when Nephilim stood poised on the brink of oblivion and Shadowhunter Emma Carstairs lost her parents. After the blood and violence she witnessed as a child, Emma has dedicated her life to to discovering exactly what it was that killed her parents and getting her revenge.
Raised in the Los Angeles Institute with the Blackthorn family, Emma is paired as a parabatai with her best friend, Julian Blackthorn. A series of murders in the city catch her attention — they seem to have the same characteristics as the deaths of her parents. Could the murderer be the same person? And her attention isn't the only one caught: someone has been murdering Downworlders as well. The Fair Folk make a deal with the Institute: if the Blackthorns and Emma will investigate the killings, they'll return Mark Blackthorn to his home. The catch: they have only two weeks to find the killers. Otherwise it's open war between faeries and Nephilim.
The Shadowhunters of the Institute must race against time to catch the killers, even as they begin to suspect the involvement of those closest to them. At the same time, Emma is falling in love with the one person in the world she's absolutely forbidden by Shadowhunter Law to love. Set against the glittering backdrop of present-day Los Angeles, Emma must learn to trust her head and her heart as she investigates a demonic plot that stretches from the warlock-run nightclubs of the Sunset Strip to the enchanted sea that pounds the beaches of Santa Monica.
---
This book will definitely be one of my most anticipated releases of 2016. I need it like I need a fully functioning library near my house.
I think that's enough for now. My point has been made. This book is a big deal. My excitement cannot be contained. Sorry not sorry.
Goodreads Link
Pre-order Lady Midnight on Amazon
Cassandra Clare's Goodreads Page
Cassandra Clare's Website and link where she talks about The Dark Artifices here
Expected Publication Date: 8 March 2016