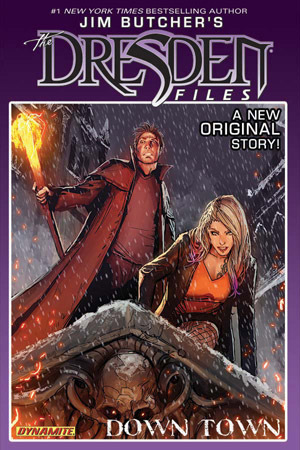 Goodreads Synopsis
Chicago wizard-for-hire Harry Dresden and his new apprentice, Molly Carpenter, intend to end the havoc caused by a mad sorcerer – one whose ambitions would have the Windy City streets carved out as his own private kingdom. But when the magical upstart enters into an alliance with the notorious mob boss "Gentleman Johnnie" Marcone, will the fast-and-loose Dresden and his young charge survive unscathed?
This graphic novel collects the critically acclaimed, six-issue series in one volume, and features a bonus section with Jim Butcher's original story outline, sketchbook artwork from Carlos Gomez, cover gallery with roughs from Stjepan Sejic, and more!
"The perfect mix of mystery, thrills, humor, and magic. Highest possible recommendation." – SciFiPulse
"If you have been away from the Dresden Files for a while, or simply looking for your next magic mystery fix, The Dresden Files: Down Town has what you want." – Major Spoilers
---
I received this book from the publisher on NetGalley in exchange for an honest review.
Jim Butcher is a fairly well known author and that was one of the reasons I was drawn to this book. I have some interest to read his Codex Alera series and after reading this comic book, I'm definitely going to start The Dresden Files.
Harry Dresden is a wizard who lives in Chicago and occasionally helps out the authorities where he can. He has his apprentice, Molly Carpenter who got on the bad side of the wizard law and who is now his student.
This story focuses on an evil source who seems to be out for murder. Harry and Molly have to figure out who is behind it and stop them before they destroy or kill off the entire city. Friends and 'enemies' join forces to defeat this evil sorcerer before he causes worse havoc.
I really enjoyed this comic and look forward to starting the novels and continuing the comic series. The graphics were amazing and quite a bit of detail was put in it. I enjoyed the fantasy side of this story as well. I can't wait to see what the next volume brings us.
Read: 14 September 2015
Rating: ✮✮✮✮
Publication Date: 23 September 2015
Link to Author's Goodreads Page: Jim Butcher