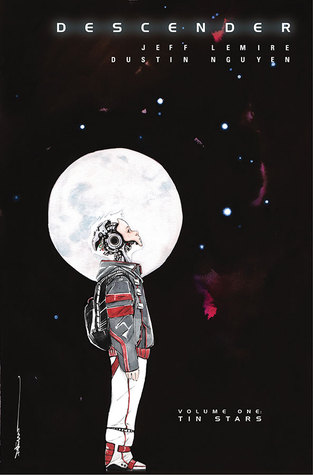 Goodreads Synopsis
"Your new sci-fi obsession is here, and its name is Descender…" – Entertainment Weekly
"Jeff and Dustin are accomplishing something special… " – Boing Boing
"Jeff Lemire has dreamt up an emotional, imaginative new universe, lavishly brought to life by the great Dustin Nguyen. I can't wait to see where they take TIM-21 next." – Brian K. Vaughan, Saga
Young Robot boy TIM-21 and his companions struggle to stay alive in a universe where all androids have been outlawed and bounty hunters lurk on every planet. Written by award-winning creator, Jeff Lemire, Descender is a rip-roaring and heart-felt cosmic odyssey. Lemire pits humanity against machine, and world against world, to create a sprawling epic. Collecting issues #1-6 of Jeff Lemire (Sweet Tooth, Trillium) and Dustin Nguyen's (Little Gotham) critically acclaimed, bestselling new science fiction series!
Collects DESCENDER #1-6
---
I received this book from the publisher on NetGalley in exchange for an honest review.
Descender Vol.1 is a futuristic comic book about a world after the The Harvesters attacked. We follow Tim-21, a child companion robot as he wakes up ten years after the attacks. He is re-activated to destruction all around him and those he was programmed to care about, is nowhere to be found.
The UGC – United Galactic Council – sets out to retrieve Tim-21 but is intercepted by Scappers hired by the Gnishians, and so starts a major battle.
I enjoyed this comic. The writing was good but the graphics looked like wash colour paints. I didn't mind it though. Some images looked very clear.
I look forward to Volume 2 and can't wait to see what else this series brings us.
Read: 15 September 2015
Rating: 
Publication Date: 24 September 2015
Link to Author's Goodreads Page: Jeff Lemire