We're coming up on my 2 month anniversary (monthsary?) for my blog -7th October. I don't think it's a coincidence that it's on the same day Season 11 of Supernatural premieres. *Cue fangirl overload*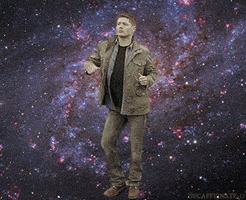 I'd like to add a few more things to my blog so that it's not just reviews of books but other things that are book related as well. I already do a monthly Wrap-Up/TBR and that's fine. I've finally settled on a look for those posts. (Everyone takes a while to figure out what they like, right?)
Things I'd like to add:
A Let's Talk…*Insert Author's Name* Segment. I've seen these going around and I don't mean to copy anyone's post but I feel like talking about authors and how I feel about their writing and how their writing has maybe helped me. I'm not sure if this should be weekly, fortnightly or monthly. I guess I'll have to see how the first one/two goes.
An Expected Releases for…*Insert Month*post which will of course be a monthly thing. I don't always buy books the second they're released because I prefer paperbacks and I'm a bit of a cheapskate. I can still get excited about books coming out. E.g, I freaked out about the release of Queen of Shadows but I didn't buy it because my book buying ban states that I cannot purchase a book if I have not read the previous instalment.
Where I'm at with my writing. It's book related. I've already told my close friends that I do not plan on getting published. I feel like I'm not good enough yet. Still working on something that I might find worthwhile one day.
November's coming up soon and I'll be taking part in NaNoWriMo 2015. I'm not sure if I'll win this year (my last win was 2013) but I can try. I have confidence! That month is going to be random updates and babbles about how my goal is faring. Expect late night highly caffeinated rants.
Thanks for reading! I hope that I can work to make this blog great one day. No rush.