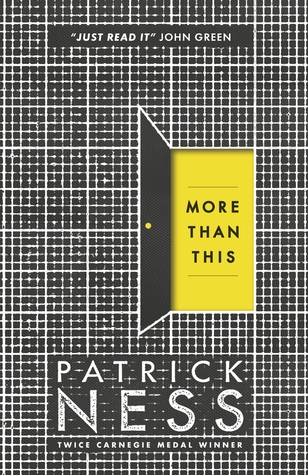 Goodreads Synopsis
A boy drowns, desperate and alone in his final moments. He dies.
Then he wakes, naked and bruised and thirsty, but alive.
How can this be? And what is this strange deserted place?
As he struggles to understand what is happening, the boy dares to hope. Might this not be the end? Might there be more to this life, or perhaps this afterlife?
From multi-award-winning Patrick Ness comes one of the most provocative and moving novels of our time.
---
I loved this book. Maybe that wasn't clear enough, I LOVE THIS BOOK! A LOT!
Now that that's settled, let's get on with it. Patrick Ness has written in my opinion a beautiful work of art that was amazing yet baffling. To be honest, I still didn't know what was going on nearly 200 pages into the book but I kept reading. I'm not sure what it was but I didn't want to stop. It wasn't boring, the plot wasn't lacking and it definitely didn't need any more than Ness put in. (Even that ending, but I can live with that just like how I can live with the fact that Jelly Tots in my country are now coated in white chocolate- ew)
I've read The Knife of Never Letting Go and I was lost in the beginning but found out that nothing could be given away because it would've ruined most of the story. I went into More Than This not knowing what it was about and for the life of me I can't remember why I picked it up. The synopsis was extremely vague and I couldn't figure out what I was stepping into. I'm glad I did though, I loved every page.
Yes, I know. This review is different than my others. Usually I talk about the book and try VERY hard to keep it spoiler free- I haven't achieved that yet. But, I'm not telling you guys anything about the book because I feel it should be read with knowing mostly nothing about it. BUT READ IT! (Ahem, it would be enjoyed better if you've at least read another book from Patrick Ness).
Read: 18 September 2015
Rating: ✮✮✮✮✮
Publication Date: 1 September 2013
Link to Author's Goodreads Page: Patrick Ness