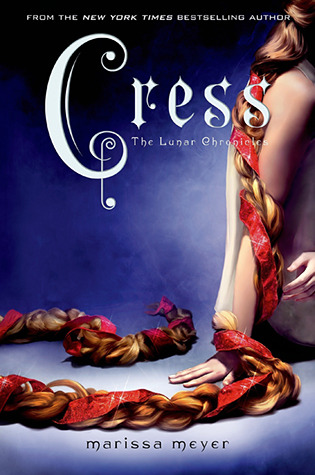 Goodreads Synopsis
In this third book in the Lunar Chronicles, Cinder and Captain Thorne are fugitives on the run, now with Scarlet and Wolf in tow. Together, they're plotting to overthrow Queen Levana and her army.
Their best hope lies with Cress, a girl imprisoned on a satellite since childhood who's only ever had her netscreens as company. All that screen time has made Cress an excellent hacker. Unfortunately, she's just received orders from Levana to track down Cinder and her handsome accomplice.
When a daring rescue of Cress goes awry, the group is separated. Cress finally has her freedom, but it comes at a high price. Meanwhile, Queen Levana will let nothing prevent her marriage to Emperor Kai. Cress, Scarlet, and Cinder may not have signed up to save the world, but they may be the only hope the world has.
---
This review might contain spoilers to the first and second books in the Lunar Chronicles series; Cinder and Scarlet.
This book was a whirlwind of amazing-ness that I'm still so wrapped up in, I don't want to escape. Cress was by far the best book in the series for me so far.
In this book we are introduced to Cress – Rapunzel, to those who don't know- and she's trapped in a satellite and basically a servant of Queen Levana (and mostly her Thaumatage). Cress dreams of being free and escaping her mistress' clutches but that's all it is until Cinder and the gang contact her again. We learn that Cress is the same girl from Cinder who told Cinder about the Queen's plan.
Once again, the book is told from different perspectives and we even get to experience the minds of the Doctor, Iko and the Queen herself. The latter really made me look forward to Fairest which I hope to get my hands on soon. I wasn't really a fan of Kai's parts in this book as I found it a tad boring but luckily there wasn't much of that. Usually with so many characters introduced and so many different point of views, one tends to get lost but the way Marissa Meyer wrote these stories make them all meld into one and there's hardly any chance of losing your way.
Cress helps Cinder with her and the gang's plan to stop the wedding and I loved the way it went down. There was the perfect bridge between action and actual plot to make this story amazing.
We even got to see what Princess Winter is like and I once again, look forward to the release of Winter. This book, being longer than the others, held more of a story than those as those seem like mere introductions now that I've gone through Cress. We didn't need a formal introduction to this new character because it felt like she was already a part of the story.
This book made me feel so many emotions that I wouldn't mind reliving. I'm glad to rate this book the 5 stars that it definitely deserves.
Read: 13 September 2015
Rating: ✮✮✮✮✮
Publication Date: 4 February 2014
Link to Author's Goodreads Page: Marissa Meyer