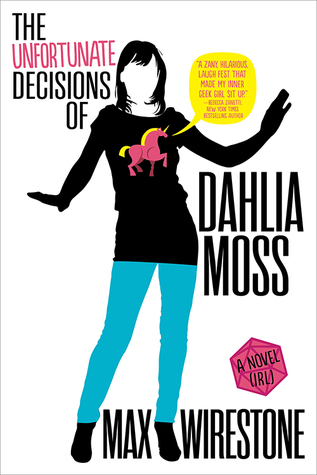 Goodreads Synopsis
For fans of The Guild, New Girl, Scott Pilgrim, Big Bang Theory, Veronica Mars, or anyone who has ever geeked out about something.
The odds of Dahlia successfully navigating adulthood are 3,720 to 1. But never tell her the odds.
Meet Dahlia Moss, the reigning queen of unfortunate decision-making in the St. Louis area. Unemployed broke, and on her last bowl of ramen, she's not living her best life. But that's all about to change.
Before Dahlia can make her life any messier on her own she's offered a job. A job that she's woefully under-qualified for. A job that will lead her to a murder, an MMORPG, and possibly a fella (or two?).
Turns out unfortunate decisions abound, and she's just the girl to deal with them.
---
I received this book from the publisher on NetGalley in exchange for an honest review.
What drew me into this book was the synopsis. I used to watch Veronica Mars as a kid and I'm crazy about The Big Bang Theory (who isn't?) and I've recently started watching The Guild. I've also had my fair share of mind blowing Comic Con experiences. This book is perfect for geeks. There are amazing references, a few of which I actually understood (Peter Capaldi's eyebrows) and they were quite funny.
This story is about Dahlia Moss, a detective who is not actually a detective but was hired as one anyway. This book has a slight air of mystery but I think it leaned more toward the humor side of things.
It took me a while to get through this book and that annoyed me. I figured maybe if I was more of a gamer I'd have enjoyed it more. Dahlia's character wasn't bad, she had her good qualities but she was mostly unrelatable to me.
This book plays out like a movie. You can see the scenes happening in your head. This is one of those movies you'd watch at night just for the fun of it and find yourself actually wanting to know more.
Dahlia was by no means incompetent, and actually got the job done, albeit in a very weird way. The other characters were great in advancing the plot and I did not find myself disliking any of them. They came in at the right times for the right reasons.
Max Wirestone's writing style is great and I'd like to read his future works although maybe I'd educate myself a bit more in the gaming world before reading a book that is mostly centered around it.
Read: 31 August 2015
Rating: ✮✮✮
Publication Date: 20 October 2015
Link to Author's Goodreads Page: Max Wirestone