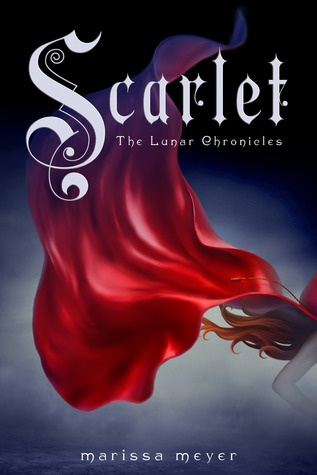 Goodreads Synopsis
Note: This synopsis may contain spoilers as it is the second book in the The Lunar Chronicles
Cinder, the cyborg mechanic, returns in the second thrilling installment of the bestselling Lunar Chronicles. She's trying to break out of prison–even though if she succeeds, she'll be the Commonwealth's most wanted fugitive.
Halfway around the world, Scarlet Benoit's grandmother is missing. It turns out there are many things Scarlet doesn't know about her grandmother or the grave danger she has lived in her whole life. When Scarlet encounters Wolf, a street fighter who may have information as to her grandmother's whereabouts, she is loath to trust this stranger, but is inexplicably drawn to him, and he to her. As Scarlet and Wolf unravel one mystery, they encounter another when they meet Cinder. Now, all of them must stay one step ahead of the vicious Lunar Queen Levana, who will do anything for the handsome Prince Kai to become her husband, her king, her prisoner.
---
Once again, this may contain spoilers for the first book, Cinder.
Scarlet's story is a retelling of the widely known Red Riding Hood and as it'd predecessor, I enjoyed this book more than the original (though toned-down) story. I think the fact that it takes place in a futuristic setting that makes it better. This book continues where Cinder finished off and even though the main character is different, we still get some insight into what's going on with Cinder which I think was mostly awesome.
Scarlet Benoit lives in France with her grandmother who owns her own farm in a small town. We start out with Scarlet's grandmother having been missing for a few weeks and no one is willing to help her find out what happened, except Wolf. Scarlet's character is defiant but in a good way and she's incredibly headstrong. She believes that her grandmother is out there, alive, even when no one else believes it. She didn't get slightly annoying though when she kept acting so carelessly that to me, as the reader, seemed like the obvious thing not to do. She made up for it with her random superhero acts.
Carswell Thorne, my sweet darling. I honestly liked him more than Kai. He was funny and witty and absolutely ridiculously amazing. He made me laugh with his second line which was: "It seems that you've stumbled into the wrong jail cell. Do you need directions to get back to yours?". His remarks are like that for most of the book.. His involvement in this whole story is that he escapes with Cinder. And now they're on the run from everyone. We don't know his full story yet. (I guess we'll find out in Cress)
Wolf was a great character that had an air of mystery. He didn't know simple things, like fruit and vegetables which made me wonder about him. For a guy who was a street fighter, he was quite timid and always seemed to be scared of something. I still liked him though.
I didn't enjoy this book as much as Cinder because I think there was more action in the first book. Scarlet was often confused and acted irrationally. More like running in the line of direct fire kind of irrational. I look forward to starting Cress soon.
Read: 22 August 2015
Rating: ✮✮✮1/2
Published: 4 February 2013
Link to the Author's Goodreads Pages: Marissa Meyer