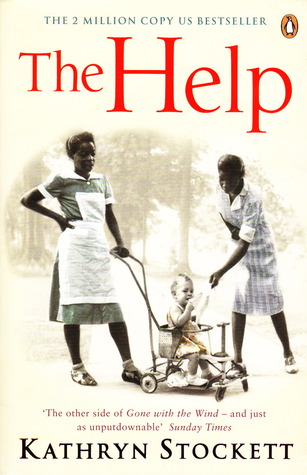 Goodreads Synopsis
Three ordinary women are about to take one extraordinary step.
Twenty-two-year-old Skeeter has just returned home after graduating from Ole Miss. She may have a degree, but it is 1962, Mississippi, and her mother will not be happy till Skeeter has a ring on her finger. Skeeter would normally find solace with her beloved maid Constantine, the woman who raised her, but Constantine has disappeared and no one will tell Skeeter where she has gone.
Aibileen is a black maid, a wise, regal woman raising her seventeenth white child. Something has shifted inside her after the loss of her own son, who died while his bosses looked the other way. She is devoted to the little girl she looks after, though she knows both their hearts may be broken.
Minny, Aibileen's best friend, is short, fat, and perhaps the sassiest woman in Mississippi. She can cook like nobody's business, but she can't mind her tongue, so she's lost yet another job. Minny finally finds a position working for someone too new to town to know her reputation. But her new boss has secrets of her own.
Seemingly as different from one another as can be, these women will nonetheless come together for a clandestine project that will put them all at risk. And why? Because they are suffocating within the lines that define their town and their times. And sometimes lines are made to be crossed.
---
This book is set in the 1960s at the height of the racial barrier in America. What drew me into this book was the movie actually. This topic is not my favourite and having to see it through other peoples' eyes who probably experienced all this first hand is quite frankly, scary. I'm thankful that I haven't gone through any of this and was born after my country became a democracy.
We start with Aibileen, a black maid that works for Ms. Leefolt. Aibileen was a character that I liked immediately. She did her work and even though she felt bad about some things, she didn't cause any trouble. The way the maids were treated in this book was despicable, demeaning. Ms. Leefolt seemed unable to think for herself. Every time she'd come up with an idea, she was shot down. I still find it hard to be sorry for her though.
Skeeter is an educated white woman who preferred to get her diploma instead of dropping out to get married. She believes she's ugly because that's what she was told her entire life. She wants to be a writer and is doing everything she can to achieve that. I liked that she was different. That she talks kindly to the maids and doesn't insult them. I liked that she tried to make a change and be different from the other white people surrounding her. When she mentioned that part about reading banned books because if it was banned it must've been good, I smiled. I think that's a pretty good reason to want to read banned books.
"Ugly live up on the inside. Ugly be a hurtful, mean person."
One thing I noticed that it was a 'each man for himself' situation most of the time. If someone needed to be defended, she'd only get it if it wouldn't make the others look bad. Otherwise, they're on their own. I realised that friendship didn't mean much to these women because they threw that away so easily.
Out of all the maids, Minny was always my favourite because she always stood her ground.  Miss Hilly I dislike the most. I couldn't stand her. Anything that happened to her was well deserved. I liked Miss Celia. She doesn't know much but she was a likeable character. I felt that her story was heartbreaking. Even with so much negativity in her life she still seems so positive. The comments she receives flies over her head. That woman got some real self-control.She was the only one in my opinion who deserved all the good the world had to offer and she couldn't have the one thing that she really wanted. Thank the heavens for Mr. Johnny.
There were moments when my heart broke. This book takes me on an emotional roller coaster and I loved that about it. I like how so many people got courage near the end. It's as if courage was being handed out as you walked in. This story really put this situation into perspective for me. Not everyone is accepted but it's nice to know that with time, generations can change.
"You is kind. You is smart. You is important."
Read: 30 January 2015
Rating: ✮✮✮✮✮
Publication Date: 10 February 2009
Link to Author's Goodreads Pages: Kathryn Stockett