I received this book from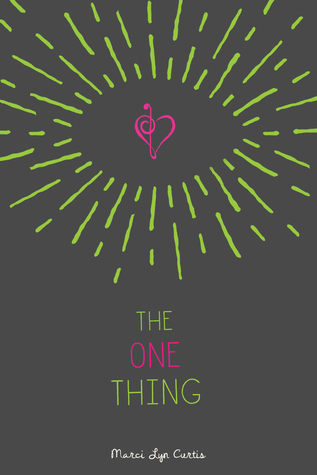 NetGalley in exchange for an honest review.
The One Thing follows a girl – Maggie Sanders- who lost her eyesight six months ago due to meningitis. The change is tough on her and it shows in her actions. She's your typical grumpy teenager who seems to be in denial of this sudden disability and tries extremely hard to ignore its existence.
What I liked about Maggie was that she could be mean and terribly rude at times but she knew it and didn't play around with fake apologies. She'd offend or hurt people accidentally and even then refused to cast her eyes away or beg for forgiveness because it would make her look 'desperate' and 'guilty'. She knew what she was about and maybe it took her a while to figure out what she actually wanted, but she came around in the end.
A quote that stuck with me was: 'That's the thing about being blind: you see people as they really are.'
A person hardly tends to think that if the person they're seeing is really who they are inside. The fact that most people can see makes us not appreciate the gift that it actually is. We see things and people and places and take it at face value and don't think about what's under it all. I think of Clarissa's character and how she hasn't been able to see all her life and she doesn't get to experience things the way we do, yet she still enjoys life and is possibly the most jovial character in this book.
I requested this book on a whim because I liked the synopsis -a blind girl suddenly being able to see this boy? yes please!- and the cover intrigued me. I had no idea that it would pull me in so deep I'd mess up making my tea. The characters were realistic and many a time, I felt as if I could feel what they were feeling, as though I connected with them. This book made me see that even if something seems impossible, you'd never know unless you actually go out there and do something about it.
'After all, circumstances don't change us. They reveal us.'
Read: 6 August 2015
Rating: 5/5